Royal Pains Producers on Eddie, Divya, Boris and More!
by Matt Richenthal at .
What can fans expect from this Thursday's winter premiere of Royal Pains? The official promo for "Mulligan" should give you a good idea.
This also helps: we took part in a conference call this week with producers Michael Rauch and Andrew Lenchewski. Below, the men in charge of the show gives us an idea of what's to come regarding Eddie, Boris and more...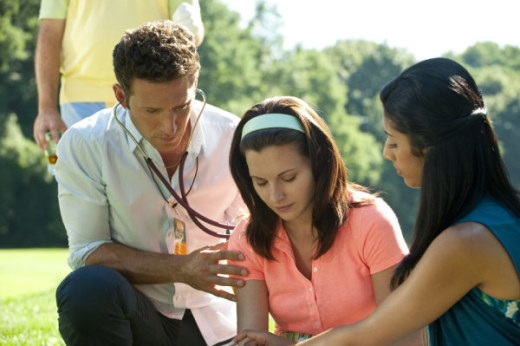 Will Eddie's heart attack change him?
Rauch: I think that we're not so sure if the father will change or not and that's part of what we're dealing with in these back six episodes. Seeing the effects, not just physically, but what happens to Eddie. To be in the presence of his sons, if this can help change him.  That becomes a big part of these six episodes. 

Divya isn't really leaving for London... right?

Rauch: She's a very important part of the fabric of the show and she's also a character who's torn between different obligations.  That's a big part of what we're going to do in the back six episodes with her character.  It really takes us all the way to the winter season finale where things really come together and she's forced to make a decision in Episode 218.

Does Hank make headway in Boris' illness?
Lenchewski: It's moving forward a little bit more deliberately in terms of figuring out how to cure the disease now that we have an idea of what it is.  The medical aspect to the Boris/Hank storyline for the rest of this season is going to focus more on the Marissa pregnancy; how that impacts the Marissa/Boris relationship and ultimately how that translates into the Hank/Boris relationship with something fairly climatic happening at the end of episode number 17, and the aftermath of that into the season finale.

Any chance Tom Cavanaugh returns?
Rauch: We definitely loved having him in the show and I know Tom had a great time, too.  In a perfect world we'll be able to figure out a way to bring him back.  Hopefully, storylines and schedules will come together that we can make that possible.  We thought he did a great job and he really fit into the show perfectly.

Matt Richenthal is the Editor in Chief of TV Fanatic. Follow him on Twitter and on Google+.

Tags: Royal Pains, Interviews, Spoilers
From Around the Web