Remember not too long ago when CBS was trying desperately to make a success out of Aussie stud Alex O'Loughlin? It took a few tries, but the third one became the charm, as he's now bromancing the heck out of Scott Caan on the shores of Hawaii and receiving love both critically and in the ratings.  
What got me thinking about this was the announcement last week that Battlestar Galactica's Tricia Helfer would be guest starring on No Ordinary Family, in what can only be assumed is a villainous role. Since her lauded performance as... well, a number of characters on BSG, Helfer has graced many other shows with her statuesque presence, including Burn Notice, Chuck, Human Target, Lie To Me and Dark Blue.
I'm awfully surprised the networks haven't been clamoring to create a star vehicle for Helfer. As one of the most recognizable faces on the small screen, she's otherworldly gorgeous, plus has the most commanding presence of any other woman on television.
Since I'm partial to espionage-based series, it would thrill me beyond belief to see her cast as a spy of sorts, but I would giddily hop aboard any series that featured her in the lead; preferably one in which she can occasionally unleash some fury. She's got ferocity down to an art form.
I'm officially putting it out there to all the broadcast and cable networks: Give Tricia Helfer a series to call her own. She is way overdue.
Another perennial go-to guest actor primed for a jump to lead status is David Anders, who first achieved notoriety as the dashing, but deadly, Mr. Sark on Alias. Since then, he's done stints on shows ranging from Heroes, Grey's Anatomy and 24 to more recently Undercovers and The Vampire Diaries.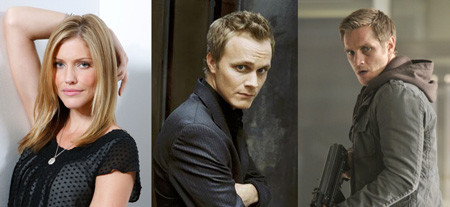 Obviously, the camera is very kind to Anders, and the American actor can rock an accent like few others, so versatility isn't a problem. Having been featured on some very popular shows with ridiculously loyal followings, he has also amassed quite a fan base. So what's the hold up? He's paid his dues riding shotgun. It's time someone snatched Anders up and put him front and center. He's more than nimble enough to carry a series on his capable shoulders.

And if ABC is listening, I think a series entitled Sark has a bit of a ring to it, don't you?

To date, I'd really only seen Devon Sawa in the original Final Destination, though I know he's been in a number of films over the years. Nonetheless, I was mightily impressed with his recent turn on Nikita, to the point where I find myself hoping he, too, is given a chance to headline a solo series.

As the formidable Owen, a Guardian Agent within Division, Sawa showed the makings of a major action star, and I could easily see him in a 24-esque type series. Plus, he shared some surprisingly great chemistry with Maggie Q, which makes me believe he could do justice to a tortured, but heroic, leading man role.

So now I say to the networks: get cracking! There's an insatiable amount of talent amongst these three performers and they are ripe for the picking. Let's make sure their names are prominently featured come next pilot season. Okay?

Do you agree these three should have their own series? What other actors would you like to see move to front burner status?  Leave your thoughts in the comments section below!

Email Jeffrey with your thoughts and questions at jeffrey@tvfanatic.com and follow him on Twitter @TVOnMyTerms.

Jeffrey Kirkpatrick is a TV Fanatic Staff Writer. Follow him on Twitter.

Tags: Commentary, TV on My Terms