This week's Blue Bloods, "Dedication," opened with a shocker as Frank was gunned down in the street. In previous episodes we've seen Frank's security detail hovering but this time they were half way down the block when a drive by shooter opened fire.
They caught up quick, although it looked like Baker stumbled a bit in her heels. Perhaps someone could explain to me why so many female detectives on TV have to wear such high heels.
The entire Reagan clan descended on the hospital. Henry even brought his side arm, ready to do battle if there were another attack on his son.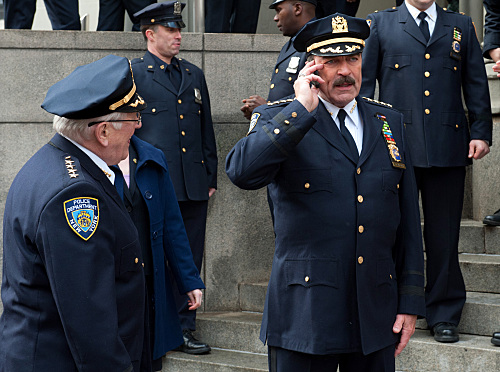 Hospital scenes replaced the Reagan family dinner, but there was enough family interaction that I didn't miss it, Especially when Henry listed all of the food that was sent to their house and Frank quipped that it seemed as though the city's restaurants were trying to kill him.

Death by pastrami and cheesecake certainly sounded like a step up from getting shot.

As Danny and Jackie ran down leads and Jamie lamented over not being able to work his father's case, it was actually Henry who was headed in the right direction. I liked the twist. This wasn't a new threat, but an old one.

While everyone was targeting the Mexican cartel, it was an old beef with the Irish Mob that got Frank shot. I must say that for a dying man confined to a hospital bed, Whitey certainly didn't lose any of his fierceness. This must have been a scary man back in the day.

I had a minor complaint about the scene between Danny and Whitey.

Danny threatened to kill him with his morphine drip. I have no doubt that Danny wanted to do just that, I just don't think it would have been possible. The morphine drips I've seen have always been attached to a computerized box that regulates the dose, thus preventing accidental overdose.

But if that had been the case here we wouldn't have had such a dramatic scene that illustrated just how far Danny was willing to go.

For as much as Danny took down both sons, this was Frank's night. Tom Selleck's performance was subtle but effective. As he stood at the podium his expression radiated pride in his sons.

The final scene was very much in character for Frank.

Even though the man wanted him dead, Frank still paid Whitey a condolence call and apologized for not doing so thirty years earlier. A class act from a man not quite recovered from his bullet wounds. As much as I liked the scene it put a strange thought in my head.

What would shake Frank's faith enough to make him seem not so…perfect? Perhaps the second half of the season will take us there.

C. Orlando is a TV Fanatic Staff Writer. Follow her on Twitter.

Tags: Blue Bloods, Reviews
Want more Blue Bloods?
Sign up for our daily newsletter and receive the latest tv news delivered to your inbox for free!
From Around the Web
More From TV Fanatic
It's getting crazy on Gang Related! Lines are being crossed by gangsters and officers, is anyone in the right?
On Rookie Blue, Andy assists Sam in a missing persons case. Elsewhere, an undercover operation to track down illegal handguns sends Chris scrambling to maintain control.
Join us for the rewatch of Gossip Girl Season 2 Episode 9 "There Might Be Blood." What did you think of this episode?
Duck Dynasty Season 6 Episode 5 was all about re-branding. Read on for our latest rundown.
---