"Fancy Dan" marked the return of Dan Patch, another breakup, and a few reunions. Let's dig in.
Dan returned home for his brother's wedding, bringing along a bird-loving girlfriend and some awkwardness with the girls in his life. Marti pulled a selfless act by backing out of the competition for Dan, reverting back to the BFF position.
It was hard to tell if she realized they really are better as friends or if she is that good of a friend. I've preferred Dan with Savannah and couldn't have been more pleased with this outcome. Besides, Marti doesn't need Dan. Did you see how gorgeous she looked in that dress?!? She should have no trouble finding someone else.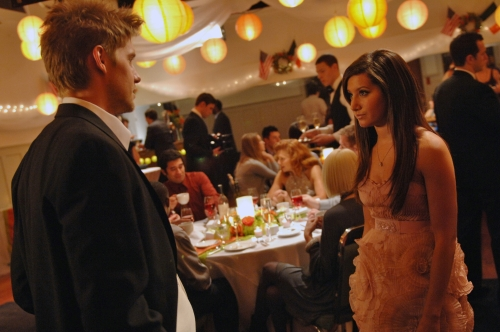 This is awkward...
Surprisingly, the most shocking turn of events centered around some of the adult characters. During the hour, we learned Derrick's Army Reserve unit had been called up, while also discovering Vanessa's feelings about Red.
Derrick may possibly be the most mature person ever. He just accepted the situation and left. Kudos to him for being such a responsible adult, I know I would have never been able to react that way. This seems to be the end of the run for D.B. Woodside. Can't really say I will miss him all that much.
With Derrick out of the way, it seems obvious where Vanessa will be heading next. The Red/Vanessa (Ranessa?) relationship is something I can get on board with. What do you think? Is there finally going to be room for these two to try again as a couple?
Some other thoughts:
It's only a matter of time until Wanda and Travis hook up, right? They are living together now!
I hope that Jake doesn't pop up every week with Alice visiting him in jail. I am over the storyline and am over him. Time to move on.
Now that the case is over, have we seen the last of Julian and Morgan? 
Aly Michalka rocked her rendition of "Wild Horses." (Visit our Hellcats music section now!)
What did you think of "Fancy Dan?" Are you glad to see Dan Patch home and reunited with Savannah? Interested to see what will happen with Vanessa and Red?

Tags: Hellcats, Reviews
Want more Hellcats?
Sign up for our daily newsletter and receive the latest tv news delivered to your inbox for free!
More From TV Fanatic
On tonight's The Bridge, Marco is made an offer that he initially refuses. Will he agree to go after Fausto?
Things go from bad to worse for Molly on Extant as she tries to escape the prying eyes of the ISEA but chooses the worst place for safety. Read on for a full review.
Mike is on a war path, but is he headed in the right direction? Read our Graceland review of "Los Malos" now to find out!
Rachel tells Mike about the kiss as Mike struggles to pick up the pieces after his firing. Read our Suits review of "We're Done" now to find out what went down.
---