Top Chef Review: A Meal They Can't Refuse
by Kate Moon at .
It's Fashion Week in New York, and that serves as inspiration for the Quickfire Challenge on Top Chef, with food as the art form.  
While Padma plugs her jewelry line, Isaac Mizrahi makes for a rather controversial judge, snapping his fingers at Dale, throwing in a random comparison to Charles Manson.  While it all seems like a thinly-veiled promotion for Fashion Week, at least Mizrahi makes for interesting TV, wouldn't you agree?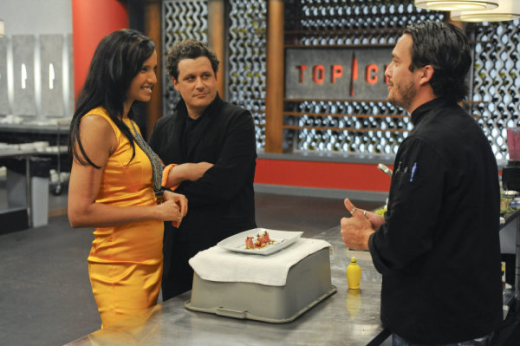 Quickfire Challenge
With Mizrahi as the guest judge for this episode, the judges are instructed to create a dish with winning presentation, par for the course.  The twist?  Padma and Isaac will not be tasting it; it's purely for aesthetics.

The judges are creative as usual, although removing the taste component of food definitely throw them off.  Tre creates an abstract piece of "dots" and slices of salmon that's oddly pretty, but quite simple.  Dale makes a beautiful creation, but Isaac snaps his fingers at him for making something out of leftovers. Antonia's nuts were apparently too big for her tree to please Issac and he actually compares Angelo's writing of "Crocadile" (and yes, he spelled it incorrectly) to Charles Manson.

Issac likes Fabio's strange sushi lady creation, which did not look very appealing to me. He chooses Richard's black ice cream and menthe rock creation as the winner.  It did look delicious, almost like a winter forest with its color scheme.

Elimination Challenge
It's an Italian challenge, as the All-Stars cook for the owners and chef of Rao, a famous restaurant in New York.  With Tre the "Black Italian," Mike the "Jersey Italian" and Fabio the... "Italian," it's sure to be a competitive challenge.

The chefs are responsible for the traditional three-course Italian meal for Frankie No, "Junior" and Dino the Chef.  The food all looks incredibly delicious and warming, as Italian food is want to be.  With actress Lorraine Bracco as the guest judge, the chefs have a lot of Italians to impress.  The girls really take the cake this time around, with Antonia, Tiffany, and Carla killing their antipasti course.

The heart and soul of Italian food, pasta, does not fare so well at the hands of Tre, Mike (now forever dubbed the Jersey Italian) Dale. The segundi course is generally well-received, and it's clear just how desperate Fabio wants to win and prove himself in this challenge.

Judges' Table
The ladies of antipasti and Fabio emerge as clear winners and Antonia takes the win for her steamed mussels, much to everyone's shock. Fabio is upset that she wins for such a simple dish, while the rest of the contestants literally stare in shock before they applaud her. Poor Antonia.

Tre's risotto is too runny, while Mike and Dale have bad pasta; clearly a bad move in an Italian-themed challenge.

Tre ends up going home, although notably Tre had an amazing risotto in Season 3.  I personally don't agree with this elimination. He's been doing quite well during All-Stars and if anything, Mike was the weaker link. What do you think?

Tags: Top Chef, Reviews
From Around the Web