Top Chef Review: Welcome, Jimmy Fallon
by Kate Moon at .
Jimmy Fallon showed up on Top Chef this week. That was about the only highlight, as nothing is sadder than seeing a favorite contestant go, especially when it's due to a mediocre challenge.
Let's review the disappointing installment, shall we?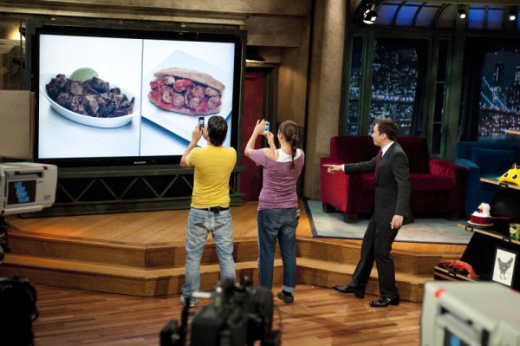 Quickfire Challenge
The Quickfire involved unconventional fondue where the chefs got a chance to judge each other. That meant one or two things: really strange fondue concoctions that were delicious; and a chance for chefs to get really catty behind the scenes.

I completely expected Richard to pull out a smoke and mirrors fondue dish, what with his twist on everything conventional, but he actually wentwith bananas and chocolate. Such a letdown. What's not a letdown? His belief that his parents went to a naked fondue party back in the 70s.

The dishes all sounded delicious... and probably would have been if they were actual dishes, as opposed to fondue/soups.  Dale won with his pho-ndue, which looked a lot like yummy pho.  No immunity, but a trip to Napa Valley, which sounded pretty good anyway.

Elimination Challenge
It's Jimmy Fallon time!  The chefs cooked Jimmy's favorite food, which did NOT include mushrooms, eggplant and mayo.  It was funny and a little embarrassing to see Carla squeal so excitedly over pot pie. 

The rest of the chefs were way less enthusiastic, like Fabio about his hamburger, and Antonia with her beef tongue. Seriously, was Richard on Prozac? Where was the Richard we knew and loved, with his crazy avant-garde ideas?  Even Fallon loved him and Richard just gave him Ramen. Delicious Ramen, I'm sure, but still.

This episode took a turn for the worse because Fallon was considerably less funny on Top Chef than on his own show. His comments about the food were odd and not amusing. 

Judges Table
Carla's enthusiasm paid because Fallon loved her chicken pot pie. She got a guest cooking spot and a trip to New York. Although Dale's Philly cheesesteak wastoo salty, Fabio was sent home for his dry hamburger! It was so sad to see our favorite Italian eliminated.

Tags: Top Chef, Reviews
From Around the Web