Why does Tyra like to talk in funny voices and accents? 
No one knows, but she went French this week, telling the girls about nutrition and "cheaties," food that you can indulge in without feeling guilty. After Tyra leaves, the girls are done playing nice and a fight breaks out about some raw chicken that Alexandria stuck in the fridge. I would not want to tangle with that girl, she says some frightening things during confessional. 
Aside from the verbal smackdowns, the rest of the episode was inadvertently funny, from the contestants facing their inner critics to facing off with... bees.  Let's break it down.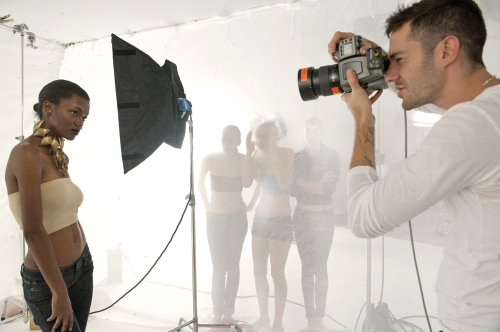 The Challenge
I get the point of the challenge: to draw and face your inner critic. It's even an insightful and helpful task. But the drawings were so comical that the sight of the girls screaming and crying at their own portraits didn't resonate as much as it could have, with the exception of Ondrei's revelations about her brothers. 

Photoshoot

Buzzing bees were the focus here as the contestants are scented with pheromones. Surprisingly, no one freaks out, not even Jaclyn, who's allergic to bees. It's a Top Model first, considering the meltdowns that previous cycles have had with tarantulas and spiders. 

The shoot itself is relatively tame aside from the bees; the girls are decked out in dark lipstick and strangely defined brows. Their ears and noses are stuffed with cotton balls so that bees can't crawl inside. That is an icky thought. You can see that no one wants to open their mouths, either.

Judges' Table
It was bee-tiful! Gotta love the judges' bad puns. Ondrei makes the decision to go home and be with her family, which the judges support. However, Tyra still announces that there will be an elimination, unless Ondrei's photo happened to be the worst of the bunch. 

Hannah gets first call-out despite breaking down during her shoot. The judges adored her tears and her elegant posture. Tyra is intentionally confusing and mysterious about who may or may not go home. Maybe it's meant to be entertaining, but it's just irritating; the poor girls must be so nervous. Eventually, Nicole is sent home for photographing too old. I don't see it, I think she looks just fine. 

Overall, I thought the episode was a bit bland. The cycle seems to be a bit low on drama so far, but we have yet to see the makeover episode, which always promises great drama. 

What did you think? Do you agree with Nicole's elimination?

Tags: America's Next Top Model, Reviews
Want more America's Next Top Model?
Sign up for our daily newsletter and receive the latest tv news delivered to your inbox for free!
More From TV Fanatic
This week on The Last Ship, Danny gets sick and the crew begins to panic. Is it the virus? Meanwhile, Rachel's vaccine trials continue to fail.
Who was able to successfully problem solve on The Rachael Ray Show this week? Find out now in our review of Food Network Star.
The Masons are reunited on Falling Skies Season 4 Episode 6. Will it be a happy or contentious reunion?
What took place on The Real Housewives of New Jersey Review this week? Read our rundown to find out!
---