America's Next Top Model Review: Welcome, Rachel Zoe
by Kate Moon at .
Ah, the woes of Alexandria! This week began again with a segment dedicated to one of our least favorite contestants on America's Next Top Model. She reflects on her near elimination of last week and pouts about how her personality is misconstrued. The girls also face their first CoverGirl commercial... with a twist!
The Challenge:
The episode actually felt like a giant CoverGirl commercial, with girls discussing their love for various CoverGirl products. It's all about product placement!  Ironically, that felt more realistic than their actual commercial where the girls had to write, direct, and act in their own ads in groups of three.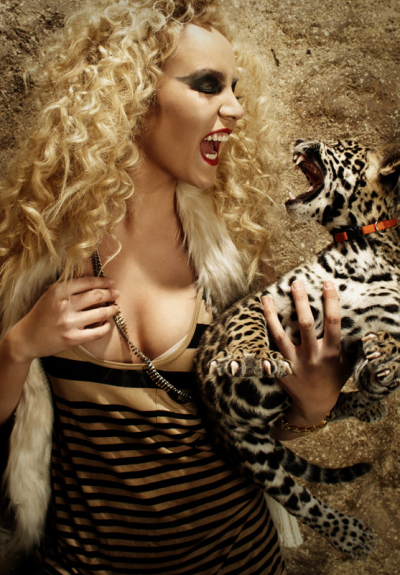 The commercial challenge is understandably difficult, considering most of the time the girls have trouble just reading and memorizing their scripts.  Alexandria micro-manages her team to the ground, which isn't surprising since she's a total control freak. Mikaela is definitely the best of the bunch, not sounding like a robot.

To take revenge against Alexandria for screwing over the team, her fellow teammates - Monique and Molly (whose hair is still in shambles, poor girl) - decide to read Alexandria's diary!

This has definitely never happened before.

I surely wish they had read aloud a segment... although I suppose the entire nation isn't privy to Alexandria's darkest thoughts.

 

The Photoshoot:

The guest judge is Rachel Zoe! And the girls wear her faux fur collections in an animalistic shoot at the Los Angeles Zoo. The girls get to pose with Murato, an adorable baby jaguar who is a surprisingly good sport about all the hoopla. 

It's scary to watch the girls with the sweet kitten, and I'm surprised the zoo even allowed them to pose with Murato, considering how awkwardly the girls handle him. The actual looks are less "lioness" and sexy/Catwoman, but the overall effects are quite striking.

The Judging:

The photos aren't the strongest of the ones we've seen so far in the season, but that's just my opinion. Tyra and the panel rave about Hannah's photo and also love Brittani's. Aside from those two, most of the pictures look a bit awkward; it can't be easy posing with a baby jaguar.

At this point, it's almost a sure bet that the producers are only keeping Alexandria around for the crazy factor, much like Jade (Cycle 6). No one really likes her picture, and her attitude leaves a lot to be desired but she's spared from the bottom two. Unfortunately it's Molly and Dalya who end up in the bottom. 

I think Molly should be given a second chance since she's suffering from a lack of self-esteem stemming from her horrible weave, and Tyra agrees. Dalya is sent packing, despite her stunning bone structure. 

How did you feel about this week's episode? Do you agree with the elimination? 

Tags: Reality TV, America's Next Top Model, Reviews
From Around the Web