Chuck did not wow our critic this week, but answered enough questions and posed a couple of new queries to compensate for any lack in entertainment value.
What did our other staff members think of "Chuck Versus the A-Team"? We've got all the bases covered for you here in today's TV Fanatic Chuck Round Table:
1. Favorite Chuck quotes of the evening?
Dan F: Morgan: Awesome: "You're not just anything Ellie... you're Mrs. Awesome."
Dr. Toboggan: Morgan: "I've been in a drug-induced stupor for the past 24 hours." Casey: "What did I tell you about letting Jeff buy you drinks at Chilis?"
Eric H: It was more delivery than quote, but Chuck's realization that they were the B-Team was priceless.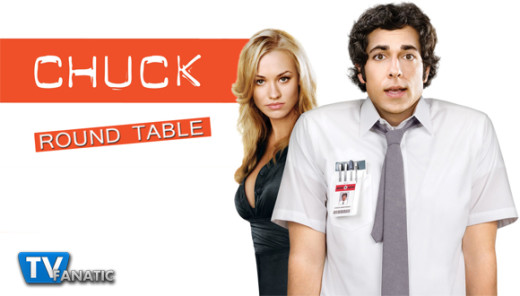 2. In honor of the ridiculous Sienna scene and the company that saved our show, "better" product placement: Subway or Toyota?


Dan F: Has to be Subway if only because it created my new favorite sandwich... the "tuna-roni."

Dr. Toboggan: Subway. Always Subway, they saved the show and the utter shamelessness of their product placement is what makes it so great. I also caught Morgan eating Pop Chips when he was at the door and those are delicious.

Eric H: Subway may have saved our show and had some pretty hilariously blatant scenes with Big Mike... but the Sienna had automatic doors! It was like he was using the force!

3. Casey's new Beckman chose Stacey Kiebler as the female Greta... Your choice

?

Dan F: Either one over Kiebler. If you wanted robotic, you have to go with Summer Glau. All 12 of my fellow Sarah Connor Chronicles fans would agree with me on that one.

Dr. Toboggan: I don't really remember exactly who the other ones were but this one certainly wasn't my favorite. She looked to have as much personality as cardboard. So I'll take Summer Glau by random default.

Eric H: First off I am very disappointed in new Backman's incorrect choice. In addition to clearly failing as an Intersect and shooting the detonator, she lacked the ultimate geek hotness that is Olivia Munn. The chick hosted a video game show on G4!

4. So does Jeff have the ESP? And what kind of name is CIA anyway?


Dan F: Jeff figuring out what Ellie was thinking was a very nice parlor trick... but coming up with the fact that the CIA had the laptop? Unreal! I'm sure he blacked out for a little while writing those three letters, but this man has something going on in that brain of his that none of us even realize.

Dr. Toboggan: The more we find out about Jeff the more you have to respect him. Not only a Missile Command champion but he also has ESP and lives in a van. He definitely does have ESP because he nailed Ellie's thoughts exactly, but in the end CIA is a dumb name so I don't blame Lester for not believing him.

Eric H: Sure, he may have nailed Ellie's thoughts, but I'm sorry, the man clearly lacks the ESP. Obviously the laptop was with NCS, not the CIA. Anyone with decent clairvoyant skills could have seen that.

5. Let's name the alluded, non-existent Ellie-Devon Woodcomb sex tape.


Dan F: What do you mean non-existent? So I should stop e-mailing Vivid Entertainment for advanced copies of "A Night of Awesome"?

Dr. Toboggan: I don't know, I'm not creative at all. But I did spend a lot of time Googling Ellie Does Devin Sex Tape and let me just say there is a lot of stuff on the Internet that is not appropriate for people of any age.

Eric H: Busty Doctors 13: Awesome Edition. Trust me, I've seen the first 12 and I know the Drs. Woodcomb will make this the best in the series.

Eric Hochberger is the programmer of TV Fanatic, so please forgive his mediocre writing. His programming is far better. Follow him on Twitter and/or email him. Just don't request threaded comments. They're coming.

Tags: Chuck, Round Tables