Another week of Chuck goes by that fails to impress our tough critic, but that sure doesn't mean the rest of our Round Table gave up on the episode!
Your weekly Chuckers are back to dissect "Chuck Versus the Muuurder" with its simple Clue-based plot and Subway promos in our weekly Round Table:
1. Favorite Chuck quotes of the evening?
Dan F: Jeff's strange philosophy of karma and food: "If you love something, let it go. And if it comes back, you can eat it."
Dr. Toboggan: I think with all the product placement talk lately my favorite moment was yet another shameless Subway plug from Big Mike.  His describing the delicious southwestern chipotle sauce as "muy caliente" and comparing it to Morgan's mom had me cracking up.
Eric H: Definitely everyone's shock upon learning that our bombs expert got an accent after one semester abroad.  Hate blokes like that.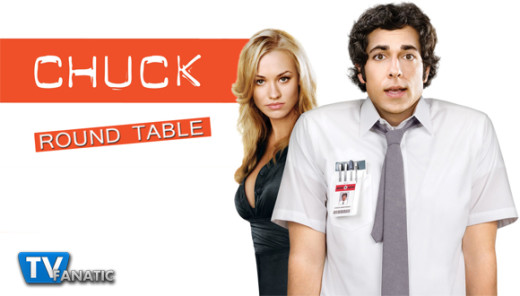 2. Chuck Clue mystery: cool or lame?


Dan F: Cool idea. Lame execution.  If you're gonna do it, you have to go all the way.  There were not nearly enough Clue references to make it work.

Dr. Toboggan: I was excited for this episode but I thought it fell a little short.  It could have been really cool but you knew pretty quickly who the killer was going to be and if they would have incorporated Morgan more I think it would have been a lot better.

Eric H: Lame. Even Family Guy pulled it off better in this current, lame season.

3. Help Chuck out.  Pretend they're all still alive and rank his recruits

:

Dan F: I'm agree with my man Chuck.  I don't know about the other three, but I'd have to pick Brody as my number one.  I mean as long as Chuck would continue to call him the Brode-ster, he has to be the best choice.

Dr. Toboggan: They were all awful.  They were all supposed to be trained agents and not one could get within a foot of Casey during combat tests, answer any of Morgans questions or pass simple psych exams.  If that is the bar for America's CIA agents than all we have to do is discuss vacation days and weekends and I'm finally ready to sign up.

Eric H: Fine, guys, don't play.  Sure they weren't the best recruits to come out of Langely, but that doesn't mean you had to ruin my game.  Anyways, here I go on my own.  1) The Greek.  Rescue this poor guy from the sand already!  Maybe then he wouldn't have to bomb so many Castles.  2) The Pregnant, Hot Chick.  Even out the ratio of the team.  Would make it so much easier when they crash parties on missions.  Plus, come on, no one is going to shoot a pregnant girl!  3) Explosions Expert.  Because you can't neutralize every bomb with apple juice.  4) Brody.  Do we really need a clone of Chuck?  Viva variety!

4. Shameless Chuck Round Table product placement promo alert.  Has anyone actually tried a Subway breakfast sandwich yet?  How are they?


Dan F: I can't get myself to do it.  It just doesn't feel right to me.

Dr. Toboggan: Yes and they are actually pretty good.  If your lucky enough to be offered avocado for your sandwich that really puts it over the top.  And even though they truly are shameless I agree with Dan's review no matter how many plugs they give Subway they never bother me and the writers still find a way to make me laugh about it.

Eric H: Why are you guys even looking at me!?  I asked the question.  Obviously I haven't tried them!

5. Who/what is Agent X!?


Dan F: I would love it to be Ellie. That would definitely spice things up around here.  A brother sister intersect spy team would be fantastic.  I'm sure she'd regret it immediately and demand that it be taken out of her head, but for a few episodes it would be fantastic.

Dr. Toboggan: I think it is probably Ellie but I hope it's not, I like her as the caring sister who is not out fighting crime.  I am hoping that the computer makes a mistake and flashes Devin instead and then we have to see him struggle to try to keep it a secret from everyone.  Or possible Morgan, I know its a long shot but come on an intersect duo of Chuck and Morgan would be amazing.

Eric H: I think in light of Ellie recently given birth, the show is not going to send her in danger's way.  So my theory?  Agent X was Papa Bartowski's nickname for project Chuck.  Now she has access to the program, she can tweak the Intersect.  Or Ellie.

Eric Hochberger is the programmer of TV Fanatic, so please forgive his mediocre writing. His programming is far better. Follow him on Twitter and/or email him. Just don't request threaded comments. They're coming.

Tags: Chuck, Round Tables