I knew it was inevitable that Criminal Minds: Suspect Behavior would move into the sensationalized stories - and "Devotion" raised the "creepy factor" to 11 as Cooper and his team raced to stop a killer who was lynching his victims.
Honestly, you can only chase kidnappers and snipers for so long before the writers try to outdo themselves.
To that end, we got a very strong "11" in the form of a homicidal-schizophrenic-necrophilic-brother who carted his dead sister's corpse around while he was lynching random father figures on the way to kill their father for leaving them years earlier.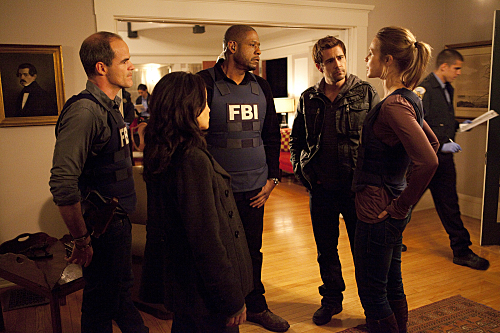 I have to give it to the writers: this was not a plot I could have predicted. When Cooper revealed that the girl was actually dead, I said "no way" out loud. Then, when Mick and Beth found it was the guy's sister, I mumbled "what the..." to myself. 
The ironic part of the sensational story in this episode was that it actually worked. As much as I want to bang at the episode like it was a tent stake coming out of the ground, it worked in all the items I have been saying for weeks were important:
All the team members' names were used (more than once).
We learned about Gina and her not wanting a family.
The team worked very well together in the final scene. 
We got a clear picture of how the team was profiling the unsub.
Another pleasant surprise for this episode was that the production team has finally figured out a great visual way of showing us Cooper working through building up a profile on a target he is chasing. I was really impressed with how well the story moved both times that Cooper was working through the behavior of the unsub and when they were showing flashbacks to images and scenes we had seen before. 

Crime shows are not strangers to using effects. CSI uses "ghost overlays" and "weapon-cam" all the time to show where a bullet, knife, rope, etc. went or how it did something. Some may feel that a show sells out when you rely on this much visual aid to help tell your story. To those people, I will remind them that this is TV and not a radio broadcast; it should be visual. 

This episode felt the most put together, with a good blend of dialogue, team interactions, and case action. I hope we get to see more of this quality level going forward? What did you think of this week's episode? Am I being too generous with my standards? Sound off now.

Jim G. is a TV Fanatic Staff Writer. Follow him on Twitter.

Tags: Criminal Minds: Suspect Behavior, Reviews