CSI: NY Review: Not a "Do or Die" Situation
at .
If I didn't have to write this review, I probably would have changed the channel. It isn't that this episode was bad; it just didn't have anything in it that conveyed the "Do or Die" sentiment the title implied.
The plot was formulaic and lacking in any of the genuine twists, or even true depth of emotion, that have set the standard for CSI: NY.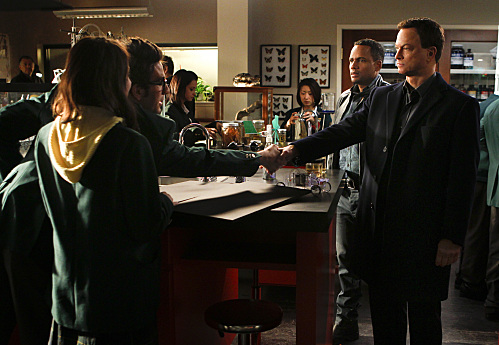 A girl, Olivia Prescot, was murdered at a prep school. The CSIs investigated with due diligence. The murderer was caught, and it was a student, Emmy Thomas, who killed Olivia for taking advantage of the boy she liked.

There were oddities mixed into the evidence pool, such as an ass print - to quote directly from Lindsey and Danny - that uncovered a student making amateur porn... the guts of an emperor scorpion smeared on the toilet seat left behind by Emmy's boots after an awful prank... martian dust, which turned out to actually be just soil from the Chilean desert.

There were all those things, but they did nothing to make the story pop or help add weight to the characters presented.

What is it with writers and prep schools?

It's almost become a cliche these days that behind the doors of the expense prep school terrible and sinister things are going on that parents and faculty are unaware of. A sense of bias lurked in the corners of the dialogue as Danny expressed his adamance that his daughter would go to a public school, and a teacher made it plain, without actually saying it directly, that Emmy was picked on because she wasn't as wealthy as the other students.

All high school experiences come with trials, inner angst, and not so nice things lingering in the corridors. If there was a point that was meant to be made about how prep schools are just as bad as public schools, the message was lost and came off as smarmy.

Not all was average, as the writers managed to come up with the most clever form of a cheat sheet I've ever seen. Crib notes expertly printed on a water bottle was a pretty awesome concept. I wonder how many students watching the show will give it a try.

The sequence of the students texting each other and setting off the wave of instant communication alerting the student body of the murder was a brilliant touch. I wish that could have been expounded on throughout instead of just at the beginning and end.

Adam has always been on edge and nervous around Mac, but it seems he's gotten more paranoid about his efforts in the lab lately. He is a character that is constantly trying to prove his worth, but it just seems that by now he could ease up a little bit more. Instead, he goes into a panic whenever he discovers evidence that's out of the ordinary, or inexplicable.

Overall, it wasn't a complete waste of an hour. It was just an hour I might have saved for viewing when there was nothing else on.

Tags: CSI: NY, Reviews
From Around the Web