I really wanna say I enjoyed "Bombshells." I wanna give it credit for being different and well-produced and an interesting change of pace from the typical House formula. Because it was all those things.
But this is the sad truth: when I first saw House grab Cuddy from underneath her bed, I legitimately had to stop the show for a moment and recall where these two stood at the conclusion of last week's episode. That's how much the show has jerked around viewers via this inconsistent relationship.
For that reason, I haven't been invested in the Huddy. I should have been broken up when they broke up tonight, right? But didn't we just see Cuddy scream that she had had enough on "Two Stories?" It's hard to get worked up, or even to follow along, when the status of this couple has oscillated from week to week.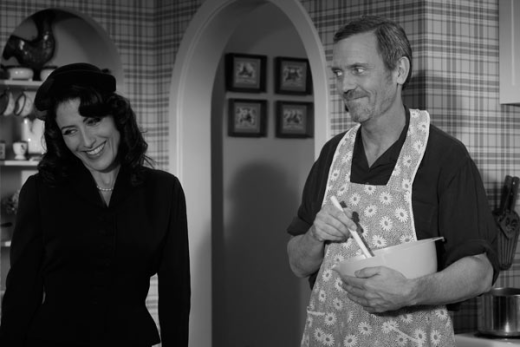 I can safely say, however, that I didn't see House's addiction playing a role. That development took me by surprise.

But I find myself straining to care. I just feel like we've been here before. House tries to be happy, House tries to be normal, House falls back into the routine of someone scared and miserable. Is that the life of an addict? Yes. Does it make for entertaining television? Not seven seasons in.

I was even rolling my eyes at the issue of whether or not House would visit Cuddy when she was sick. This also feel like a weekly storyline. Will House attend Cuddy's fundraiser? Will he be there for Rachel? Will he... do all the normal and caring things that a boyfriend should do? When this is called into question week after week, I stop feeling sympathy for House and his struggles and start to just wonder: why is anyone close to this guy?!?

So, why did I give this episode a decent rating, despite all the criticism? I'll always reward effort, and serious attention was paid to make this an atypical hour of television. The Two and a Half Men mockery was especially timely, of course, and all other genre spoofs were very well done.

While not as funny as usual, there were also enough profound House quotes to keep me interested and I'll never tire of Hugh Laurie.

But I do fear that there's no more story left to tell with his character. We've seen him hit rock bottom over a woman (Stacey) and we've seen him battle pills before (the first five seasons). After waiting so long to get him together with Cuddy, I was hoping the show would give this relationship the time and respect it's earned.

Instead, Huddy has felt off balance from the premiere. I never felt attached to the couple and I'm almost glad they've now split so we can just return to the awkward, wacky, sarcastic, intense world of Princeton Plainsboro and the true heart of the show (Wilson and House's friendship)... but then I remember that we'll be watching House's downward spiral for at least a week to come and I have to stifle a groan.

Can anyone convince me otherwise? I really do wanna fall back in love with the show.

Matt Richenthal is the Editor in Chief of TV Fanatic. Follow him on Twitter and on Google+.

Tags: House, Reviews