In the ring, it's the boxer who controls the tempo, maintains the power, and makes the decisions. Out of the ring, it's a completely different story. Someone else always gets the final word.
"Cut Men" came off the heels of last week's scissor stab, but luckily Patrick's recovery was moving along. It was unfortunate that he needed to postpone the fight because there were a lot of repercussions in delaying it. I never knew how much money was involved... but millions of dollars? That's a lot of cash.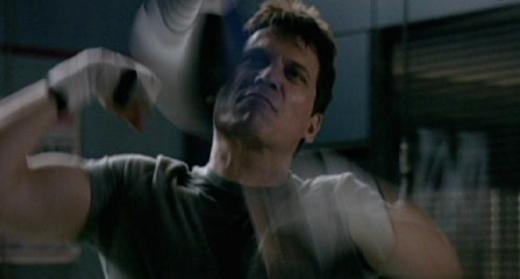 Barry was unflinching in his decision to move forward. He doesn't really care about the fighters, looking at them as human ATMs. In fact, it feels as if the boxers are merely pawns for the people around them. Everyone wants a piece.

It was interesting that Richard seemed willing to postpone the fight. As a boxer, as much as I'm sure he loves the loads of money that he earns, he is focused on his opponents. It's the match itself and the chance to physically show his prowess that means something. Richard wants to not only go out on top, but also to do it defeating Patrick.

Yet, like Theresa, Richard's wife is adamant to get him out of the game. I recognize that it must be difficult to watch someone you love take punches for a living, but it seems that the women on the show are relatively against boxing. Is that a gender issue that occurs in this particular sports world?

Of course, at first, Richard decided to fight another opponent. He listened to his wife. He listened to Barry. He didn't listen to his own conscience.

In a fantastic scene, Patrick confronted Richard. Patrick took a stance on his own feelings and issued words full of sting, fury, and passion. He wanted to fight Reynolds for the money to help his family, but his desires ran far deeper. Patrick wanted to prove that he still had what it took. It was a tension of real proportions.

If that outside match of fists is anything like the actual fight, then I can't wait. A few other fight scenes have looked a little slow at times, but this fight felt real and full of emotion. Boxers certainly have a sense of pride, and it was the discussion about who was pulling strings that erupted Richard. It was a great tease that had me wanting more.

However, Patrick's focus on maintaining the fight put Theresa's accomplishments on the back burner. As much as I wish she were fully on board with her husband's decisions, it was sad that her graduation and special recognition seemed to be ignored. It's too bad the phone call about Richard came at the exact same time she was called on stage.

That said, there were some definite sparks at the dinner table between Theresa and the doctor. There was a look in her eyes that screamed a big "No, No." Patrick noticed it, too, but I can imagine it being hard to connect to her work when he doesn't know too much about the world of medicine. Is there a future affair in the works, or was it just professorial admiration?

The final moments of reaching out to Hal Brennan made me think that the Leary family is unknowingly going to find themselves in his pocket. That sneaky character managed to woo Margaret and is pushing his way into Patrick's life. The smile he gave when Patrick had him up against the fence was creepily perfect. He may not have fists to use, but Hal has plenty of power and manipulation.

This was another good episode that moved things along, rather than coming to a standstill of recovery from last week's ending. Plus, on top of the major storyline of the big fight, Johnny even got in some bonding time with his son.

Things are still heating up and when the finale rolls around, there's going to be a lot more to deal with than the simple Reynolds/Leary fight. FX sure knows how to give viewers some great television.

Sean McKenna is a TV Fanatic Staff Writer. Follow him on Twitter.

Tags: Lights Out, Reviews
Want more Lights Out?
Sign up for our daily newsletter and receive the latest tv news delivered to your inbox for free!
From Around the Web
More From TV Fanatic
It's getting crazy on Gang Related! Lines are being crossed by gangsters and officers, is anyone in the right?
On Rookie Blue, Andy assists Sam in a missing persons case. Elsewhere, an undercover operation to track down illegal handguns sends Chris scrambling to maintain control.
Join us for the rewatch of Gossip Girl Season 2 Episode 9 "There Might Be Blood." What did you think of this episode?
Duck Dynasty Season 6 Episode 5 was all about re-branding. Read on for our latest rundown.
---