Do medical examiners really do this much investigation on cases?
I always assumed that detectives did the field work but if that were the case on Body of Proof then I suppose we wouldn't have much of a show.
"Society Hill" threw Megan back into the high society life she had as a top neurosurgeon. It was a life she claimed to loathe but I wonder if that was before or after she lost her career.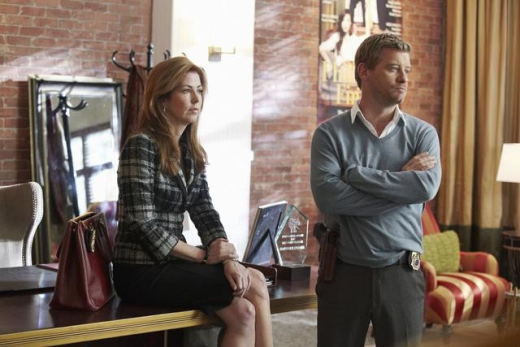 Megan accepted her mother's invitation to a society party so that she could track down a suspect. Megan's interrogation techniques were not exactly subtle but later she explained to Peter that she was trying to get a picture of Collin's eyes and she needed him to widen them. Well, yanking out his hair and then accusing him of murder would definitely accomplish that.

Steven Burkett, Daphne's nervous assistant did such a wonderful job of playing a chronic hair puller that I kept rubbing my head. My scalp was sore just watching him.

I loved Curtis. He didn't only analyze the bugs. He didn't just talk to them. Curtis sang to his maggots. Then he told Megan that the squirmy little worm and his entire family were high on aspirin. I found the maggots disgusting but Curtis was adorable.

It looked like Megan believed her Mom cared more about her society friends than about her. Funny how Megan's daughter Lacey believed her mother's career as a neurosurgeon was more important to Megan than Lacey. I'm noticing a family pattern here.

Peter inviting Megan out for drinks with the crew was a nice moment.  It was one more small step in Megan becoming a part of the team. Too bad it was interrupted by Mom and a break in the case.

I also enjoyed the song at the end of the show. Maybe by Ingrid Michaelson was both cheery and melancholy enough to fit the moment.

The actual murder by electrocution was an interesting twist and one I didn't see coming. I was happy to see Bud jump in and read the murderer her rights before she said anything further.  That certainly seemed like something a detective should do. 

Do medical examiners really get to interrogate suspects? Oh, never mind. As long as Dana Delany is doing the interrogating, I'll just sit back and enjoy the ride.

C. Orlando is a TV Fanatic Staff Writer. Follow her on Twitter.

Tags: Body of Proof, Reviews