Brothers & Sisters returned to ABC with a two-hour episode this week.
Did "Olivia's Choice" and "Never Say Never" make up for lost time and right the ship, or sputter as much of this season has so far? I'd say somewhere in between.
No sooner did the episode begin than another wrench was thrown into Kevin and Scotty's plan for domestic bliss. Olivia's brother, Brian, is filing for custody of her.
Kevin and Scotty have no choice but to appear before a judge, which goes horribly wrong once they learn that Brian is not a fan of the fact that they're gay dads.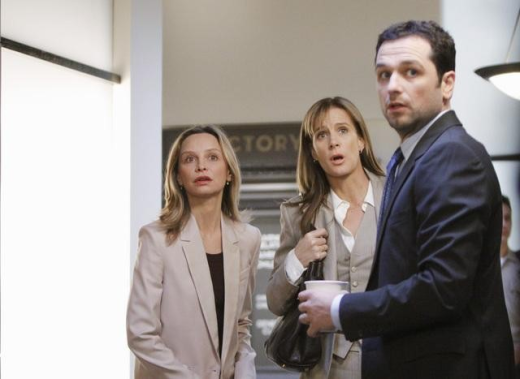 Who would have guessed that Lily would be the unlikely hero in this adoption saga? The missing dog brought home a companion, which Nora welcomed in with open arms.
Olivia sees a bit of herself in the dog and how she was embraced unconditionally by the Walkers, telling the judge as much. Naturally, the judge rules for Kevin and Scotty.
After some words from Nora, Brian cools off and even joins Olivia and her two dads for dinner. Happy as this was for everyone involved, it seemed to end a little smoothly.
Showing up out of nowhere and being so against them, it's hard to believe Brian came around so fast. A little melodramatic, but that's B&S for you. It was very sweet.
Good thing Lily was found by the time Brody came back. More on that briefly.
Luc's going to be busting his tail 10 hours a day now at the gallery so the wedding plans need to get cracking. Sarah seems like she's dragging her feet just a little there.
Kitty is yearning for Seth, but he's dating someone named Berklee. Great name. Sarah convinces her to crash Seth's date with her and Luc serving as backup. Fun stuff.
While Seth figured out what this romantic black ops team was up to and pulled the plug, he ended up giving Berklee the heave-ho later, clearing the way for a Kitty kiss.
A bit of a cheesy way to bring these too back together, but we do enjoy Ryan Devlin's character and Sarah's complete lack of subtlety, so we'll consider this a success.
Brody's back in town and Nora's thrilled about it, but things take a turn for the worse for an entirely unrelated reason. Nora receives word that her mother passed away.
Due to contractual situations with ABC prior obligations, Tommy and Kitty won't be there at the funeral, but the rest of the Walker kids are asked to speak at the service.
Ida was never too fond of Kevin, in his mind, so he's not a fan of the idea. Meanwhile, Nora goes into freakish Nora mode, planning up a storm, while Saul is crushed.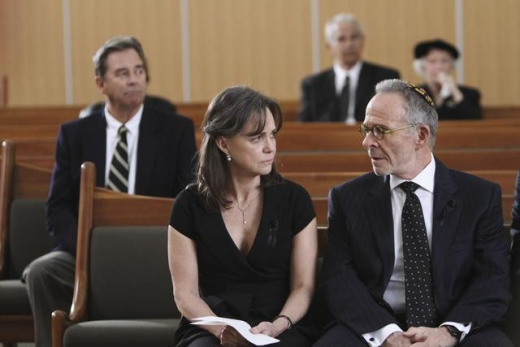 Nora's struggles with the eulogy dovetailed with her difficulties resolving the situation with Brody, who she says left her long ago to chase his own dreams, but who is back now.

For the moment. Will he stay? With a little coaxing from Sarah, Broady decides he's going to step up and chase his dreams once again - only this time right here in Pasadena.

Brody steps up to take her home after Nora breaks down post-eulogy. Only then does he admit that he didn't just come back for Lily, but for Nora too. Touching and poignant.

Ida's passing touched everyone in their own way.

Justin fears he may end up just like her, never finding someone after losing a spouse. He's also turning 30 this week, which Kevin reminds him is just the start of a new chapter.

Finally, Ida left behind was a letter addressed to Saul, which he feels will reveal how ashamed she was of him for being gay. In reality, all she wanted was for him to be happy.

Perhaps with Jonathan, he finally can be. And perhaps Scotty's mom, who was trying to overcompensate by doting on Olivia, can finally make things right with her own son.

"Never Say Never" was an appropriate title for an episode all about longing for things that the characters felt eluded them long ago, but which they still have a chance to grasp.

Family is family, and even though no one's perfect, the Walkers past and present have done what they can. That's worthy of a toast, and a reasonably strong double episode.

Do you agree? Share your thoughts below.

Steve Marsi is the Managing Editor of TV Fanatic. Follow him on Google+ or email him here.

Tags: Brothers & Sisters, Reviews