CSI: NY Review: "Identity Crisis"
at . Comments
The focus of "Identity Crisis" shifted between the murder of a con artist and the relationship between Jo and her adopted daughter, Ellie. Finally, a true show of Jo's strengths and weaknesses was presented, making for a revealing and intriguing episode. 
Sela Ward seems to be more comfortable in her role as Danville. The writers, too, seem to have found a way of giving us more of Jo without making her too perfect. Via her interactions with her daughter, it was easier to sense that Jo wasn't a superwoman. She had her doubts and worries, and sometimes she messed up.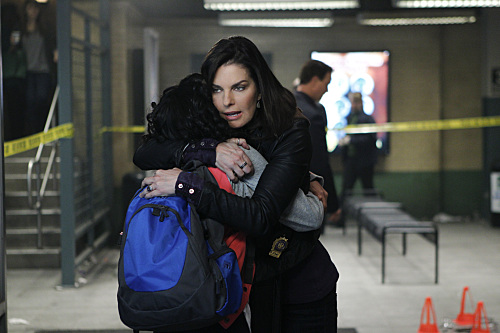 It was probably tough for Jo to tell Ellie the truth about her real mother. But it played out naturally, and with one of the loveliest exchanges I've seen on the show. The heart of matter came down to a simple line: "I adopted you because you needed me... And, because I needed you."

Jo's ex made another appearance as well. This time Russ Josephson managed not to send off any major creepy ex vibes, which was a relief.

I'm still wary of any attempts to throw Jo into a relationship because this is the character's first season, but the subtext keeps getting tossed around that Jo will end up back with her ex or with Mac. I believe both relationships would be a terrible idea, so, hopefully, the hints will remain just that.

The case this week was an interesting one because it was more about the CSIs trying to determine the method of the con artist's murder than really anything else. The mystery hinged on the weapon, with superfluous details about how the woman used the guise of an old man to rob people of their money.

Overall, the episode was good, but not great. I would have liked to have seen more about Jo and her daughter, or perhaps a little more intrigue surrounding case.

However, I think a lot of the surprise and interest about the con artist that was murdered was spoiled by the previews. I really, really wish networks would take better care about that sort of thing. Previews should entice people to watch, but shouldn't give away all the fun stuff so quickly.

Tags: CSI: NY, Reviews