The Good Wife Season Finale Spoiler: Alicia and Will?!?
by TV Fanatic Staff at .
Leela.
After hearing that name, the world of Alicia Florrick changed forever on the last new episode of The Good Wife.
Fans have until May 3 to ponder what this might mean for Alicia's marriage, but TV Line has posted a photo from the show's season finale that might offer a hint. Will a crumbling relationship with Peter finally drive Alicia into Will's arms?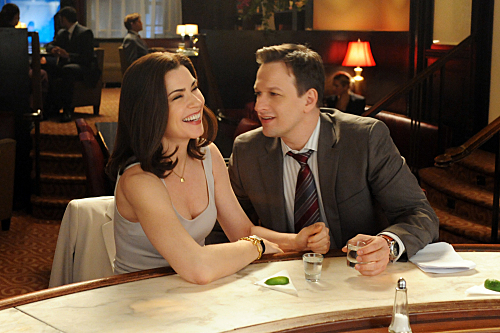 Creator Robert King says Will will learn about Kalinda and Peter's affair, counting it as "one of the surprises" on the way for viewers. He adds:

"It's always fun to see how people react to information that they on one hand should feel compassionate about, but on the other hand, they're like, 'Woo-hoo! Party!'"

By the looks of this May 17 finale photo, it certainly looks like Will is itching for some kind of party with Alicia, doesn't it?

Tags: The Good Wife, Spoilers
From Around the Web