In "Daniella Issa Helayel," the girls take it upon themselves to enjoy Morocco at their fullest.
In light of the fact that it's one of the more exotic locales that America's Top Model's ever been to, it's fun to see the girls enjoying the outdoor markets and enjoying slightly unconventional foods. In Cycle 3, the models did not take so kindly to Japanese culture, but Cycle 16 contestants seem to be more enthusiastic. 
The girls chow down on goat brains, eyeballs, and intestines even if they're shrieking in the process. Let's break down this ANTM episode.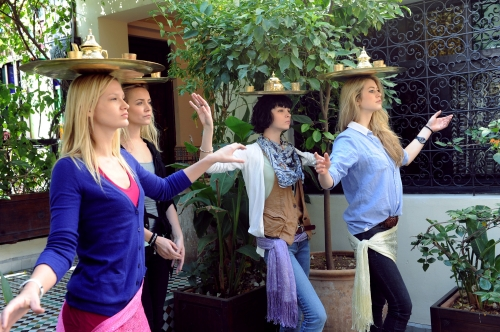 The girls have an impromptu tea with Miss Jay and Franca Sozzani, the imposing editor-in-chief of Vogue Italia.  The girls try desperately to impress the lady but end up blabbing and generally falling a bit flat.  Let's hope that their portfolios impressed her at least.  In addition, they meet a professional tea-tray dancer, who's impressively balancing a full-on tea tray like it's nothing. 

The Challenge:

Much to the girls's suprise (shock), tea-tray belly dancing is their challenge for the week.  It doesn't look promising when they attempt to practice at their pad; Brittani can't hold up a tray to save her life while Alexandria gripes away.

As an additional pleasant surprise, the girls get a tray WITH candles to dance with in front of a live Moroccan audience.  They'll also be dancing with other professional dancers. While their outfits look sexy, they look frozen in fear.  Alexandria believes she's got it in the bag.  "Please, I was made for this."  Really?  Born to balance tea tray in Morocco?

Brittani does amazingly well!  Shocking turn of events considering she couldn't balance the tray at all before.  Molly is in a bad mood after dropping the tray while confident Alexandria does quite well until dropping the tray at the very end.  Sweet Hannah is good at balancing but not at dancing.  Miss Jay picks Brittani as the winner; she gets to work with Miss Jay on her walking.  It should come in handy now that they're down to the wire!

The Photoshoot:

While Brittani's suffering from the effects of goat brains the day before, she pulls off some amazing shoots in Medina, the largest outdoor market in Morocco.  Continuing the exotic "caravan" photoshoot theme from the week before, the girls shoot at the market while wearing gorgeous billowing costumes. 

Poor Brittani.  Not only is she not feeling well, but it starts to rain during her shoot.  But despite all that, she pulls through like a champ and looks really elegant and inspired.  The photoshoot is fairly predictable.  Molly and Hannah do passably, while the majority of the shoot is focused on Alexandria and her control-freak ways.  Mr. Jay warns her not to direct, which makes her angry and ruins the shoot further.

The Judging:

The guest judge is Daniella Issa Helayel, the designer of the clothes the girls wore during the shoot.  If the name "Issa" sounds familiar, it's because she's one of Kate Middleton's favorite designers!  That royal blue dress...

I think all the photos look pretty great; maybe it's the makeup, the clothes, and the setting, but I feel that the judges are harsher than usual.  They hate Alexandria's photo and nitpick at Brittani's picture, citing her "lack of arm."  However, they do love Molly's, which admittedly looks really dreamy.

Remember when the finale included three girls and not two?  I think I prefer it that way; however, only two girls get to be in the finale.  Alexandria ends up in the bottom two for the millionth time along with Hannah and is finally sent home.  It's a rather strange moment because she didn't act entirely abhorrently this episode around.  If anything she toned down the cray-cray.  However, I'm pleased that Hannah gets to stay. 

It's down to Brittani, Hannah, and Molly. Who do you think should go home next? Sound off below!

Tags: America's Next Top Model, Reviews