It's that time of year again; when season finales air and networks announce their new fall schedules. Sadly for Hellcats fans, today just wasn't our day.
The freshman series aired their first and only finale, as well as dropping the bomb that the Tom Welling-produced show will not return next year. 
As disappointing as this news is, we still have a new episode to discuss. So wipe your tears and let's get to it.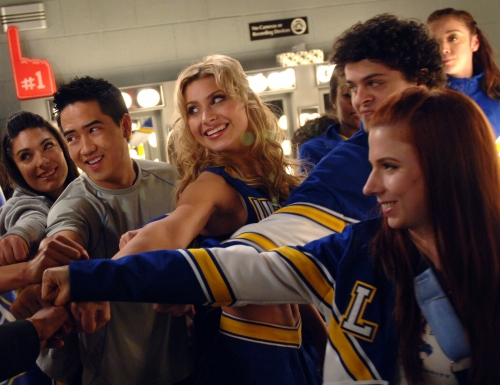 With hopes of a second season, Hellcats didn't get the proper ending viewers hoped for. Somethings were left in the air and some people were seriously missed. 

It was nice to finally have some cheerleading back on a cheerleading based show. Once again, the cast displayed amazing talent with their Nationals routine.

It would have been benefitting to see more of this throughout the season. The tumbling was insane, the stunts were flawless, and it even got Vanessa back on the mat. Maybe having more scenes like this could have helped the show.

Let's please take a second to recognize the ridiculousness of Nasty Kathy locking Lewis in the hotel bathroom. Most CW shows do some unrealistic things, but this was just absurd. You are in college! Locking someone in a room is the most immature and stupid thing ever. I couldn't help but laugh and wonder if that was actually happening. 

Savannah and her family have really come full circle since the first episode. She definitely made the right choice in staying with her sister. Family first. I was pumped for her stepping down to let Alice become captain. She needs it more than Savannah does, and honestly, I think she is the better person for the position. There was a pretty big hole in the story. No way that Savanna's father is sending postcards or letters when he is on the run. And even if he was, why send them to Charlotte instead of Savannah? Wasn't she supposed to be the strong one?

A highlight of "I'm Sick Y'all" was the scenes between real life sisters Aly and AJ Michalka. The girls definitely delivered the best acting of the cast. It's a shame that there won't be any new episodes, because the father storyline finally took an interesting turn.

The problem with not knowing you are about to get canceled is leaving the finale open ended. Marti's father being alive, Vanessa getting fired, Alice becoming captain. These are all things that would have played out interestingly next year. Even with these arcs wide open, there were some things I took issue with. Such as....where was Julian and Red?? The two couples with actual chemistry had no screen time together, in fact Julian & Red had no screen time at all. Even if you didn't know this was the ending, the writers should have taken the time to include at least one scene of Julian and Marti. They had become the spotlight of the series over the past few episodes. What about Red? There definitely would have been some verbal smackdown between him and Emily when he found out about Vanessa's firing. At least we can enjoy the idea that all of the couples, Dan/Savannah and Alice/Lewis included, were still going strong.

Although I thoroughly enjoy the cheerleading aspect, the couples should have made it into the finale. Much more so than Lewis being locked in a bathroom or the pre-Nationals dinner.

On a side note. The other squads joining the Hellcats on stage was an instant reminder of the Season 3 cheerleading classic episode of One Tree Hill, wasn't it? 

All in all, the finale was solid. Sure it lacked some things, but it had set the stage for a sophomore season that I firmly believe would have found it's stride. I look forward to seeing Aly Michalka, Robbie Jones, Ashley Tisdale, Matt Barr, and most definitely Heather Hemmens in new projects. Maybe even one of the new CW shows!

What do you think, TV Fanatics? Was the CW wrong in canceling Hellcats? Will you miss the squad or agree that it just wasn't working? Sound off and let us know what you thought of the season series finale of Hellcats. 

Tags: Hellcats, Reviews