How I Met Your Mother Spoilers: Will We Meet the Mother This Month?
by Steve Marsi at . Comments
The May 16 season finale of How I Met Your Mother includes a wedding - nuptials teased in September's season's premiere, and nuptials we still don't know who partakes in.
Barney? Robin? Punchy? Who knows. But the even bigger question is whether we will finally meet the Mother in this episode. The short answer, according to EW today, is ...
... No. In fact, we won't actually see much of the wedding at all.
Viewers will actually just see a brief, wedding preparation scene revealing one half of who is tying the knot that day. Then we fade to black for the summer. Any guesses?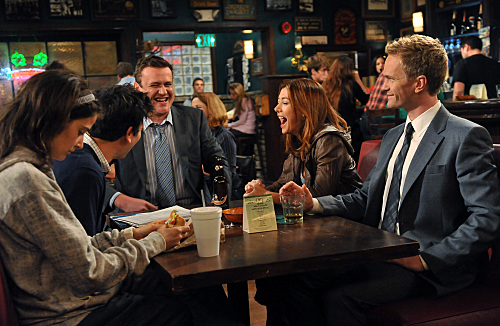 This is, however, the wedding where we meet the Mother of Ted's kids. Eventually.

The event is set a year ahead of the show's present, meaning we're at least one full season away (possibly more) from meeting the girl with the yellow umbrella.

This final scene this season does set things into motion for the series' endgame.

"We can't really talk about how long that endgame is going to play out, but the finale will set the ducks in a row for everything we're going to see after it," HIMYM creator Carter Bays explains, "leading up to Ted meeting the mother."

Says star Jason Segel of the long route to the wedding and

the new mystery

: "I think what people will be most curious about is how did we get from A to B."

In fact, that journey - from May 16′s season-finale peek at who's getting married to the TBD ceremony itself - is what will make up the bulk of Season Seven.

Beyond that, Bays is tight-lipped about when we'll actually meet Ted's wife.

No surprise there. The road to the finale begins tonight, as the first of the show's last three episodes for the current sixth season airs at 8 p.m.

Steve Marsi is the Managing Editor of TV Fanatic. Follow him on Google+ or email him here.

Tags: How I Met Your Mother, Spoilers