Falling Skies Series Premiere Review: History Repeats Itself...
by Matt Richenthal at .
There's nothing especially unique about the premise of Falling Skies. Throughout the two-hour premiere, various scenes reminded me of War of the Worlds, Independence Day and even Robin Hood: Prince of Thieves.
So, what makes this Steven Spielberg-produced drama stand out? Those were all movies. This is a TV show.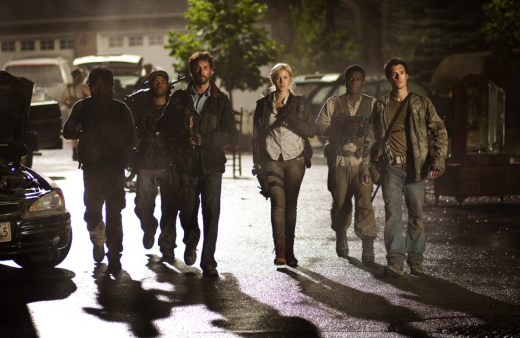 Indeed, the two-hour episode (which I'd argue was one hour too long, as the second half strayed too far from the main, engrossing alien takeover; and 120 minutes of time is simply a lot to ask from viewers unfamiliar with a show) played out like a film, replete with impressive effects, production values and multi-dimensional characters.

I thoroughly enjoyed it. Here's why:

Noah Wyle

. Who didn't love him as John Carter on

ER

? It's been years since Wyle has been a regular on the small screen, and he's the perfect fit here as Tom Mason, a father of three, desperately seeking that third.

It's a subtle, reserved performance, with Wyle saving outpouring of emotion for scenes that truly call for it. Tom comes across as a pragmatic optimist, someone who can honestly refer to civilians as a "hindrance," while saying they also inspire him to fight. His history references also make for a nice touch.

The dueling human camps. Falling Skies doesn't just pit man versus alien. Hints of tension between the controlling army and a civilian camp lead by Captain Weaver (Will Patton, appropriately gruff) make for an interesting dichotomy between the people themselves.

Multiple types of aliens. Also a fascinating twist. Why are there two kinds of visitors? Did the Skitters make the Mechs? What does this say about their intentions, their planet of origin? A lot of material to mine here.

Those darn harnesses. This is where Falling Skies very much separates itself from a mere story of alien invasion. Why are kids fitted with foreign-looking attachments? Will they eventually, tragically turn into Skitters as a result?

The two hours felt a bit long, but such an extended premiere did allow for a nice balance between action and human emotion. I feel like I know these characters already, I'm invested in the search for Ben and I'm intrigued by the insightful renegade John Pope (great scenes between his portrayer, Colin Cunningham, and Wyle's Tom in hour two).

I've already seen the third episode and it's even better than the pilot. With the feel of a summer blockbuster and an emotional center anchored by the steady presence of Wyle - along with the potential to fill in blanks such as how the resistance movement was formed and how the characters got to where they are - Falling Skies is at the top of my summer programming list.

Matt Richenthal is the Editor in Chief of TV Fanatic. Follow him on Twitter and on Google+.

Tags: Falling Skies, Reviews
From Around the Web