Jane Rizzoli and Maura Isles had the least relaxing spa day ever on "Living Proof," as the episode featured them bolting from their mud baths to perform an emergency c-section on a dead woman. Now there's a way to unwind.
I was still a little lost as to why the female patient was running through the woods in her pajamas. I've never been big on flashbacks, but one would have helped in this case.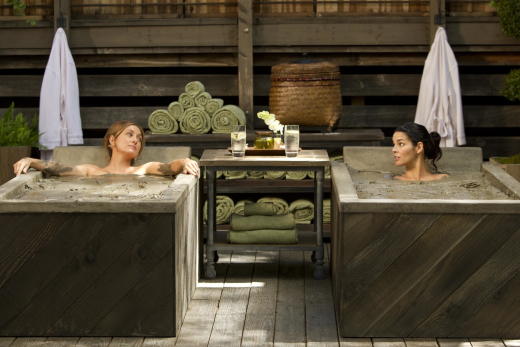 And I was unendingly grateful that they didn't actually show us the procedure. Some things are better left to the imagination. The autopsy of the woman's stomach contents was enough for me, but it sounded like Maura thought differently:
A stomach's contents are like somebody's grocery bag. They're so revealing. It's my favorite part. | permalink
That's disgusting, intriguing and accurate, all at the same time.
Jane had me in her corner over Angela's yard sale. I've always hated listening to people bicker over 50 cents regarding items that were basically someone else's junk. Where else besides these events or E-Bay do old toys become collectible action figures?
Okay. I think I've gotten that little rant out of my system. I feel better now.
Jane and Angela's mother/daughter relationship was painfully real. Loving one another didn't preclude them from driving one another crazy, especially when Angela decided to paint Jane's living room pink. Correction, not pink, begonia. Loved this quote:
Jane: This reminds of the time I asked for a bunk bed and you surprised me with a pink canopy. | permalink
Some things don't change no matter how old we are.

Becoming a Kangaroo caregiver was the perfect distraction for Angela. She needed something to care about now that her husband's gone and her children have grown. 

Meanwhile, what can be said about purple Crocs with teal accents? There was a fashion statement worth committing murder over.

I also really enjoyed the banter between Jane and Barry about the attractive babies they'd make together. Those kids would be darn cute. I loved the camaraderie that's grown within this team.  Chemistry within a supporting cast should never be underestimated. It could be the difference between a good show and a great one.

Now, after multiple murders, a homeless baby, and ugly footwear, I think I'm ready to join Rizzoli & Isles for that mud bath.

C. Orlando is a TV Fanatic Staff Writer. Follow her on Twitter.

Tags: Rizzoli & Isles, Reviews