Friday Night Lights may not be my favorite drama of all-time. But I can't think of another show in which I've felt more invested in the characters.
I welled up when Vince hugged Coach last week. I cheered louder than Grams when Saracen came home. I've watched Eric and Tami navigate the most successful, realistic, loving marriage in TV history on a weekly basis for five seasons and I'll be incredibly sad when it all ends tonight.
Largely due to the unique shooting style and freedom given to the actors (explained by Michael B. Jordan in this TV Fanatic exclusive), I'll miss Friday Nights Lights because...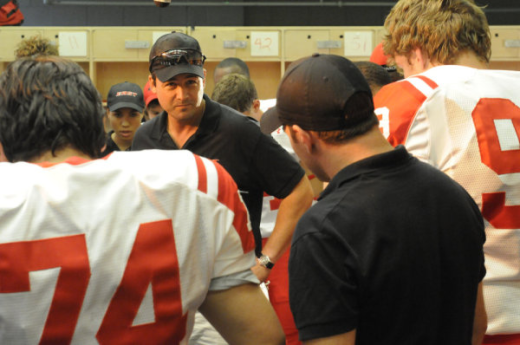 ... it features a main character who often has fewer lines in an episode than any other regular. As Eric Taylor, Kyle Chandler often says it all with one look, whether it's a look of consternation over events at home, or anger over a miscue on the field. Never has one man said so much by saying so little.

... this same man is one of the funniest people on TV. I'm not kidding. Note the way he quickly and casually greets Santa Claus on tonight's finale, or the exasperated way he fought with his wife on the way to the airport two weeks ago ("You're kicking my ass here!"). It's not intentional on the character's part, but I have no doubt it is on the show's part: there are few funnier scenes on television that Eric trying to get control of an out-of-control household.

... with the exception of one season two storyline that all fans pretend never existed, the show hasn't resorted to melodrama. There are no real twists or turns, no affairs, no explosions, no major cliffhangers. We've simply been treated to character portrayals that truly take us inside the hearts and minds of small-town residents who have never felt so real. Best case in point: "

The Son

."

... the football was actually the worst part of the show. Every game came down to the final moments, Coach was always somehow out of timeouts, there were far too many running plays with the clock winding down and the team constantly pulled out miraculous victories. Why is this a positive? Because it goes along with the main FNL theme: life is about a lot more than football.

... the show made a seamless transition from season three to season four despite bidding farewell to over half its regulars. Find me another series that could pull that off.

... "Your hand in Mine" by Explosions. I've never not smiled throughout the opening theme music.

... Eric and Tami. There's simply never been a fictional relationship quite like this one. Two people, in one happy marriage, who bicker over common topics (e.g. purchasing a home) and yet remain happy, in love, respectful and, most impressive of all, interesting. A series can't feature two people that remain together for good? There's not enough entertainment value in that? Thank you, Chandler and Connie Britton, for proving otherwise.

Thanks for reading. Follow me on Twitter for the latest news and views from the TV world!

Matt Richenthal is the Editor in Chief of TV Fanatic. Follow him on Twitter and on Google+.

Tags: Friday Night Lights, Commentary, That's Rich