Warehouse 13 isn't trying to fool anyone.
That's the message Saul Rubinek would like to pass along, following a few complaints over how the show wrapped up season two. Yes, of course Myka is coming back. That question isn't what the show wants fans to be asking.
"It's about how you're gonna get out of the pickle," the actor, who brings Artie Nielsen to life on SyFy's biggest hit, said. "That's what so fun about it. [The Myka storyline] has allowed the show to introduce someone new and to see how that affects everyone."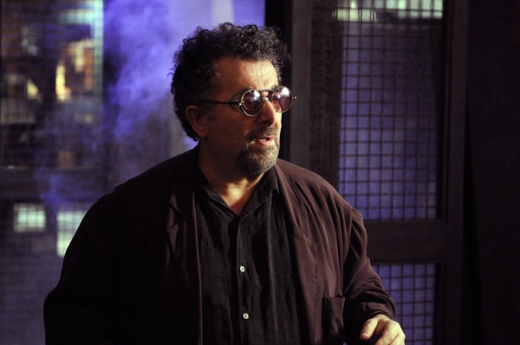 That new someone is Aaron Ashmore, who debuts as Steve Jinks on the season three premiere, aptly titled "The New Guy."

"It affects everyone differently," Rubinek says of this agent addition. "Pete doesn't want a new partner, Claudia expects a promotion. Artie just wants to know if the chemistry will actually work in order to accomplish what has to get done."

Why is Ashmore the perfect actor for the job?

"You need someone deft," Rubinek emphasized." You don't really know what you're gonna get on this show from week to week, aside from an artifact hunt. We jump from tone to tone, sometimes in scene to scene or even moment to moment - we go from suspense to comedy to Three Stooges land sometimes - and he really fit in.

"He's just deft way beyond his years. And he's a really nice guy. But he's Canadian, so what do you expect?"

A month will have passed between events on the finale and the premiere, so what can fans expect on the opening episode and in the weeks ahead? Specifically, will the nice moment shared between Artie and Claudia late last season carry over?

"It's probably gonna get a little difficult," the actor teased. "I'm her surrogate father, she wants more responsibility... there's a family dynamic there and, like with any family, problems arise."

While the relationship between Artie and Claudia will be explored further, Rubinek says the warehouse will always take center stage. Expect to go deeper into its history on season three.

"There's a real depth and the mytholgy to the warehouse, its bureaucracy, how it operates," he said. "How will that history determine the future? Like with any organization, there's been a continuity of existence. Good and evil are attached. We'll go deeper into all of that this season.

Warehouse 13 returns with a new episode tonight. Visit TV Fanatic soon after it concludes for a detailed review.

Matt Richenthal is the Editor in Chief of TV Fanatic. Follow him on Twitter and on Google+.

Tags: Warehouse 13, Exclusives, Interviews