Pretty Little Liars Spoilers: Midseason Finale, Winter Return Scoop!
by Matt Richenthal at .
With two episodes of Pretty Little Liars remaining this summer, questions abound: Will the girls tell anyone about A? Will we see Caleb again? Will Aria and Ezra ever go public?
During a set visit Monday, we sat in on a number of roundtable discussions with various cast members and can relay the following spoilers regarding next week's midseason finale and the show's return this winter...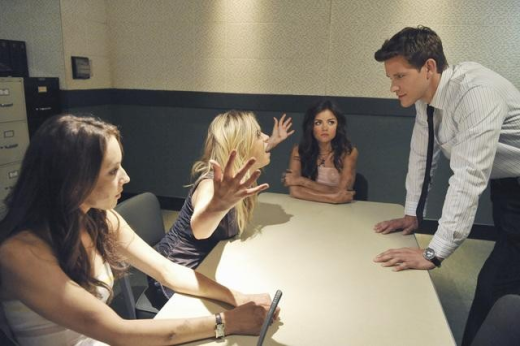 Trouble for Soby? Troian Bellisario says all has been far too well between Spencer and Toby. The relationship has "been growing and deepening... and A zones in on that as [Spencer's] Achilles heel and goes right for it in a brutal, brutal way" next week.

Liars vs. Cops vs. Liars?

The August 30 episode will conclude with the girls squaring off against the police (above), and the winter premiere will pick up moments later. But Lucy Hale says the gals will face opposition from within as well as from the outside: "There's a change in dynamic between the four of them. You get to see them where there's almost against each other, which we've never really seen. You go on to learn why they're acting that way."

Emily will be the "first one to crack," Shay Mitchell teases, saying her character tells a third party about A.

Finally going public? "In the finale, you think there's someone in [Ezra and Aria's] life that is threatening to expose them so there's the idea lurking that they could be outed for real this time - in front of her parents," Hale says, adding that Jackie plays even more of a role in 2012.

Look for a flashback episode to be based around Halloween, one that will focus on Alison and... Lucas? Actor Brendan Robinson says we'll see "how Lucas reacted to" Alison's torment and his "response to it is going to definitely entertain some questions about Lucas' character."

Caleb will return on August 30. "He definitely comes back with a different attitude towards it all," Tyler Blackburn says.

Matt Richenthal is the Editor in Chief of TV Fanatic. Follow him on Twitter and on Google+.

Tags: Pretty Little Liars, Spoilers
From Around the Web