The "4-1-1" on Secret Life is that Amy Juergens was the only person who never looked through her significant other's phone...until now.
Guys, girls, and parents alike had been performing this unspeakable - yet common act - but only Amy ended up taking a big downfall for it.
The thing with Amy and everyone in this digital generation is that our whole lives are practically on our laptops, cell phones, iPads, etc. People snoop; it's part of human nature, even though it's not morally correct. I think Ricky should've just told her about the voicemails.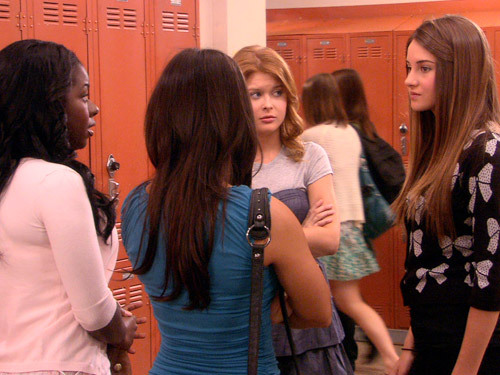 Of course, it's not as easy as what I think, especially since I'm not involved, but it would've saved a lot of fighting and distrust. I believe he was holding onto the voicemails for some other reason and I also think it was a little bit shady. Amy shouldn't have checked them, but with a crazy chick like Adrian lusting after your baby daddy, it can't be easy to just smile and look the other way.

I'm a little tired of talking about how erratic and crazy Adrian has been, so I'll just leave that for Bow-wow to handle! Who didn't love that cameo? Although, he must have a serious thing for the crazy since he stuck around after her whole rant about her divorce and what not. Hey, whatever floats your boat.

I have to give major props to Daniel for blocking Adrian on his phone after she tried to call him to piss Grace off. Grace should've slapped her. Why can't Ricky just block Adrian from his phone, too? I think it says a lot about the different kinds of guys Daniel and Ricky are.

Granted, people are the way they are for many reasons and for Ricky, he's perpetually nervous about trust issues. I was glad he and Amy were able to work things out in the end, no matter how many people it took intervening to get them there. We just needed both to apologize and to come clean about things. Wouldn't life just be much simpler if we didn't play games?

A talk-heavy episode, but one that dealt with a universally relatable issue, digital privacy. Whether it's sexting, text snooping, or voicemail eavesdropping, it's all around us. I can only thank my lucky stars that there wasn't much texting and Facebook wasn't even invented when I was in high school. Gosh, didn't this episode make you miss those primitive pre-Blackberry days?

Leigh Raines is a TV Fanatic Staff Writer. Follow her on Twitter.

Tags: The Secret Life of the American Teenager, Reviews