Community Review: "Geography of Global Conflict"
by Leigh Raines at .
Crisis Alert! There's a evil version of Annie trying to outdo the real Annie on this week's Community. In "Geography of Global Conflict" Annie goes up against her own worst enemy, kind of literally.
Martin Starr guest starred as Professor Cligoris, a name I'm going to assume the writing department created to make us feel like perverts. A model UN obsessed teacher, who likes to give rides in a wheelchair that isn't his, Starr served as the mediator during the model United Nations face-off.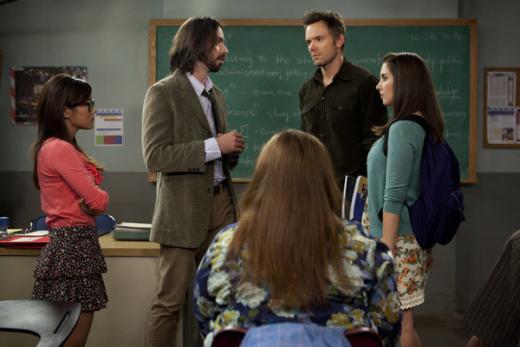 The model UN tourney brought back classic group dynamics without any crazy gimmicks. Shirley was sweet offering China's money, Troy was repping the country of Georgia with a southern accent, Abed was concerned with parallel universes, Pierce and Jeff argued over the correct pronunciation of "Uruguay" and Annie threw an epic temper tantrum. Isn't this what this comedy is about, everyone using their quirks for the power of the greater good aka the group?

One of the commentators wrote last week that in season two it seemed like the key players were becoming more like caricatures of themselves and I'd have to say that I agree. The Britta schtick bored me. Britta does bitchy and in denial better than she does crazy protester. However, her routine did serve to make Chang feel more important in his job as school security guard. The taser takedown and subsequent rescue to Lionel Richie's "Hello" was classic.

Now, just because the group came together and defeated evil Annie's model UN team, doesn't mean that evil Annie didn't serve her purpose. New girl won my heart with this gem of a quote:


Annie Kim: I'm sorry I don't understand your relationship here. Is he your father or your lover?

Calling it right from the get-go! Yes Jeff and and Annie would you please define your relationship for us? Thanks to Jeff's scolding her for acting like a school girl, and not in a hot way, we were led to a Jeff/Annie (Jannie?) deep conversation.

He thinks the best way to deflect from your true feelings about someone is to treat them like a child. However, now that Jeff sees Annie as a grown up, smart, maturing woman, it's hard for him to pretend like the "kiddo" act is still working. And alas we now know that the producers were serious in making the Jannie shippers very happy this season.

So what did you think Community fans? Check out the quote section for our favorites this week. And don't forget that Pierce doesn't like when you use his body as a board game!! Operation be damned!

Leigh Raines is a TV Fanatic Staff Writer. Follow her on Twitter.

Tags: Community, Reviews
From Around the Web