It's been eight years. Eight long years since we last saw Sarah Michelle Gellar in something other than Buffy reruns. I'm actually glad she waited to return to the small screen, though, because Ringer has the potential to be just that good.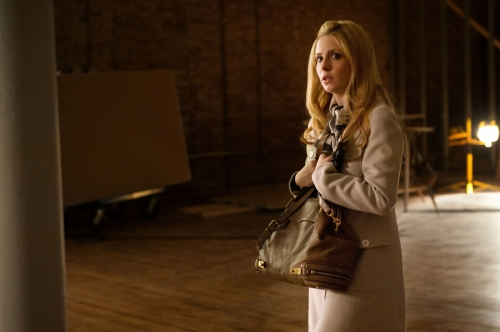 Playing twins, Gellar is everywhere in this "pilot"and she pulls off the dual role well. First, we have Bridget, six months sober, an ex-exotic dancer who witnessed a murder. Fearing for her life, she ditches her FBI handlers and heads off to see her twin sister.
I can't blame Bridget for being afraid. The Double Nickel Motel doesn't look like the height of security and if tiny little Bridget is able to take down Jimmy, her FBI handler (sans Buffy powers, no less), I can't imagine he'd be much of a match for professional killers.
Then there's Siobhan, a socialite with the handsome husband, upscale beach house, Manhattan loft and all the toys that go along with it. But, of course, things are not as simple and content as they appear.
Poor Bridget jumps from the frying pan into the fire. After briefly reconnecting with her estranged sis, Siobhan drugs her and disappears from their boat. Is this a suicide, an accident, or an escape? After a six-year absence, Bridget can't possibly know, but in a moment of pure survival instinct, she decides to become Siobhan.
Bridget's biggest mistake is calling Malcolm, her AA sponsor (and possible boyfriend) and telling him what she's done. I know she's scared and lonely and feels like she has to tell someone, but this moment of impulsiveness could be her undoing. The rest of it seems all too easy because Siobhan hasn't told anyone in her life she has a twin - but Bridget quickly learns there's plenty about Siobhan she doesn't know, either.
Like that she's in a loveless marriage and sleeping with her best friend's husband. Or, who is the father of her unborn child? But, wait, we have to remember that it isn't Bridget who's pregnant, it's Siobhan and this is Bridget playing Siobhan. Following along?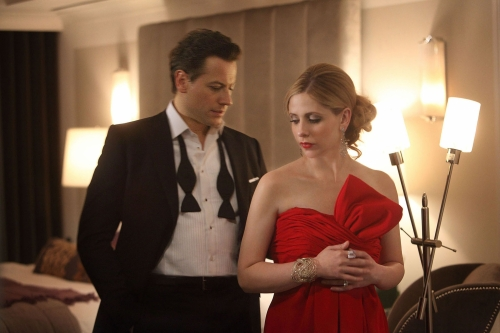 And that's half the fun of Ringer, trying to keep up with the constantly spinning web of lies. I keep wondering if it's even possible for Andrew, Siobhan's husband, to be the father of her baby because they're barely on speaking terms, except in public.  Will Henry, her lover, keep his mouth shut? And does Gemma already know her best friend is sleeping with her husband?

Oh, and back to the fact that this is Bridget - pretending to be a knocked up Siobhan - is NOT actually pregnant. How will she deal with that little, flat-stomached obstacle?

When Bridget is attacked (and did Gemma set that up?!?) we're quick to assume it's her criminal past. But not so fast, folks. Why is there a picture of Siobhan in the dead attacker's pocket? And what the heck is Bridget going to do about a dead body shot with an FBI agent's gun?

Ringer is complicated. If you get distracted, you'll miss something important, but I found the pilot so compelling there wasn't much fear of that. Gellar easily carries off both roles on a drama that possesses an eerie atmosphere and sense of mystery all its own. I'm definitely looking forward to the ride.

Remember to visit our Ringer quotes and our Ringer music sections for more from the premiere!

C. Orlando is a TV Fanatic Staff Writer. Follow her on Twitter.

Tags: Ringer, Reviews