SAMCRO came home to Charming this week.
On the terrific 90-minute fourth season premiere of Sons of Anarchy, Jax made a decision about his future, Opie got married and Otto took one for the tattooed team. Below, editor-in-chief Matt Richenthal and staff writers Dan Forcella and Christine Orlando break down the episode in the first-ever edition of the Sons of Anarchy Round Table. As always, reader feedback is encouraged...
~~~~~~~~~~~~~~~~~~~~~~~~~~~
What was your favorite scene from the episode?
Matt: The opening montage. I watched it twice in a row and then the following day once again. In four minutes, and with a beautiful song playing in the background, I wasn't simply caught up on where characters stood; I felt immersed in the world of SAMCRO, like I never left. I sort of wanted to join that Opie/Jax bear hug.
Dan: The easy answer is one of the big flashy scenes - The SAMCRO-style wedding or the the fantastic montage of murder at the end - but I have to go with Jax and Tara's conversation about the future. It's great to finally get back to Jax's battle with what to do with his family, and to hear him say that he wants to get out completely and start a new life with Tara and the boys made me grin from ear to ear.
Christine: I loved when they opened fire on the Russians in the warehouse, mostly because I didn't see that coming. That certainly took care of the informant. The rest of the murder scene at the wedding was so well orchestrated and I loved the juxtaposition of the bodies being rolled behind the white picket fence. That's Charming.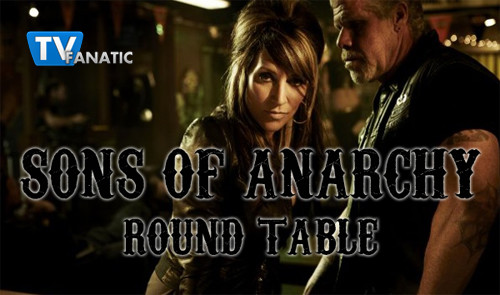 Will Tara tell Jax about Maureen's letters? Should she?
Matt: No and no, not after his heartfelt speech on the bed. What would be the point now? Jax wants to take his new family as far away as he can from his old family. Tara might as well leave it at that, especially considering the bloody ramifications of what might happen if Jax did know the truth.

Dan: Yes she will. There is no way she keeps all of that bottled up, and Gemma might go ahead and expose something anyway, after seeing that first little note with the crayon scribbled on it. Should she? My gut reaction is yes, but if keeping things at the status quo means that Jax gets out of all this safely, then I hope she doesn't tell him a single thing.

Christine: It will all come out eventually, of course, but I think she'll keep her mouth shut for a while. Especially with Jax saying he has a plan to get out of the club with the least amount of bloodshed possible. If he knows the truth that's going to get shot to hell. Now that Gemma knows the truth may be out there she might be more of a wildcard than Tara.

Will Opie and Lyla last?
Matt: Yes. While we were all laughing at what Opie did say (what wife wouldn't want to hear her new husband promise to ride her as often as possible?), note what he did not say: anything about being faithful. Lyla knows the game, and Opie won't even be lying now when he sleeps with groupies on the road. Just keep it out of Charming, big guy.

Dan: As long as he rides her as much as his Harley! I think that Opie is a great guy, and he's not one to get himself into something like this just to get out of it. The outlier in Opie's female history is that he jumped in to things with Lyla so quickly. Now that he's in, he's in it for the long haul. The big question that remains is her professional life. Is she done in front for the camera? If not, that may be the one hiccup.

Christine: I don't see why not. I mean, as long as no one shoots her, too. He's a biker, she's an ex-porn star. The perfect match.

Who will leave the club first, Clay or Jax?
Matt: Jax will kill Clay. Kurt Sutter has said he wants the series to run for seven seasons, meaning there's A LOT of SoA remaining. Something major has to go down to shake things up. And if Jax wants to change the club, and if Tara does tell him about Clay's role in his father's death, it's not difficult to imagine how everything could snowball from there. This time, though, it won't be just business for Jax.

Dan: This could go any number of ways, right? Jax leaves outright, which would mean he left first. Clay steps down as Prez, Jax takes over only to leave soon there after, which would muddy the waters, but still mean Jax left first. Or my personal favorite, Jax kills Clay and leaves the club, which technically would mean that Clay was out of the club first.

Christine: Well, this gets tricky, doesn't it? One wants out. The other knows he'll be forced out. They both want to bank as much cash as possible before the end. I've got to believe Clay will be out first. It's too dangerous for Jax to leave until Clay steps down, or he's dead. Which it will be is a complete toss up.

Whose appearance was more disturbing: Jax without hair or Juice with hair?
Matt: Definitely the latter. I haven't been that freaked out by a development regarding a guy nicknamed "Juice" since since a certain, former USC running back was found not guilty of murder.

Dan: Juice for sure! Jax with the shorter locks seemed normal to me for some reason. Maybe it's because I have seen Green Street Hooligans. Juice was just weird.  Weird, but good though. I could really go for a more prominent Juice story line in season four!

Christine: I honestly didn't notice the Juice's hair until you mentioned it. Jax, on the other hand, was kind of hot with the super short look.

Tags: Sons of Anarchy, Round Tables