The Secret Life of the American Teenager Review: Graduation Day!
by Leigh Raines at .
The Secret Life graduation episode has been much hyped, but, fortunately, it did not disappoint. In fact, "And Circumstance" was my favorite installment of this show to date.
A lot of viewers were excited for what might happen, mainly the engagement of Ricky and Amy. However, what really ruled the episode was the ending, chock full of surprises and drama.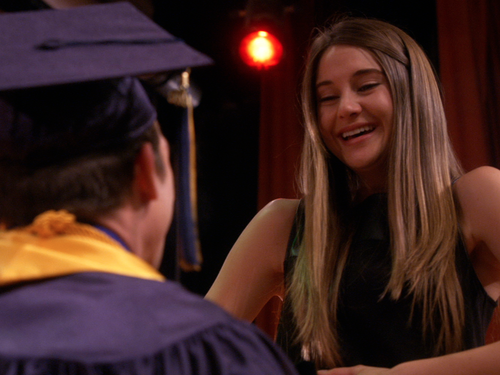 I've said it before, but now I'm going to say it again and for a whole new reason: Madison is NOT to be trusted! Hasn't Amy learned that from Madison blabbing all of her secrets in the past? Obviously not, but here's hoping Lauren learns a thing or two.

After all, it's not everyday that your best friend sleeps with your boyfriend. Nor is it everyday that your best friend sleeps with your soon-to-be ex wife. I'm looking at you, Henry. Major Hell is going to break loose when the show returns.

I have a feeling Ben may be able to forgive Henry because Ben spent the night with another girl. In addition, he and Adrian have mutually agreed upon getting a divorce. Then again, even if they aren't in love, Adrian could have her pick of guys. She didn't have to go after Ben's best friend. That is never a good move.

Madison, on the other hand... I don't even know where to go with this girl she pisses me off so much. I literally cannot think of one redeeming quality she may possess. And now she's slept with her best friend's boyfriend and tried to excuse it by saying she couldn't help it!

I feel very bad for Lauren and I hope she doesn't turn around and do something destructive to get over the pain. You know, the same way Adrian turned her rejection from Omar into her hopping into bed with Henry. Oy vey, so much of a mess after just one night!

By the way, who does Omar think he is, saying he felt disrespected when he took his brother's leftovers and flirted with other girls at the party? As for Daniel, he clearly doesn't stand up for himself or his girlfriend. While I agree that it's sometimes best to remove yourself from a tense situation, you should also defend the ones you love.

The way Ricky got protective of Lauren was very sweet and very chivalrous. It is his fiance's best friend!! Yes, ladies and gentleman I said fiance! Ricky finally put a ring on it and Amy looks like one happy girl!

I will say, though, I felt it was a bit insensitive the way Ricky proposed in front of their exes. Nevertheless, this is a very happy time for Ricky and Amy and I loved Ricky's valedictorian speech. Let's focus on the positive as we wrap up the best and most dramatic season of The Secret Life!

Leigh Raines is a TV Fanatic Staff Writer. Follow her on Twitter.

Tags: The Secret Life of the American Teenager, Reviews
From Around the Web