When an ex-cop tried to rob a bank, Danny broke the rules and put himself in the middle of the hostage negotiations on Blue Bloods this week, as "Critical Condition" gave us another incidence of Danny going rogue. Has this become a theme and should he face more consequences?
Those were the questions I asked as I watched this episode. Last week, Danny ran an unauthorized stake out. This week, he entered a hostage situation. Granted, the Captain on duty let him go, but he was meant to leave with the wounded man.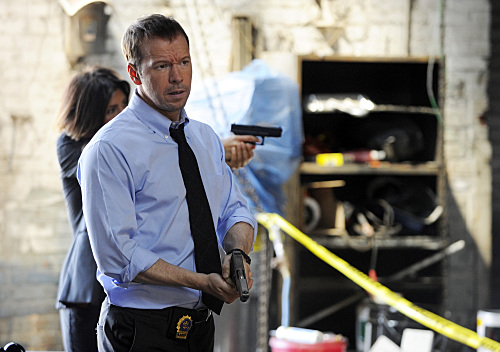 I didn't blame Danny for going back in. He knew the man and thought he had the best chance of talking him down. Plus, it would have been difficult to walk out knowing he'd be leaving another hostage behind. But Danny continues to bend or break the rules whenever he believes it necessary. At what point does that really come back to bite him?

Or will Frank suffer the consequences of Danny's actions as the press seemed to think he was giving his son preferential treatment?

Linda's anger and subsequent breakdown were completely understandable. She's a cop's wife but she normally doesn't have to watch him walk into harms way. And she knows that the rules that he's flaunting are meant to keep him safe. Sometimes it must feel as though Danny is more interested in playing hero than making sure he comes back home to her and their boys.

In other Reagan news, Jamie got a new partner: Louisa Sousa played by Monica Raymund, who I loved on Lie to Me and am thrilled to see her in a recurring role here. Louisa appears to be the gung ho cop out to make an arrest... who will come up against Jamie's more intellectual law and order approach to the job.

My favorite scene of the night came in the very beginning. Frank put two in the chest and one in the head of the target before asking Erin how her ex was. Hmmmm. How do you think he really feels about the guy?

I loved the chemistry between Erin and Frank. They're one of the great father/daughter relationships on TV and it's definitely the family bonds that makes Blue Bloods one of the most enjoyable cop shows on the air.

C. Orlando is a TV Fanatic Staff Writer. Follow her on Twitter.

Tags: Blue Bloods, Reviews
Want more Blue Bloods?
Sign up for our daily newsletter and receive the latest tv news delivered to your inbox for free!
More From TV Fanatic
This week on The Last Ship, Danny gets sick and the crew begins to panic. Is it the virus? Meanwhile, Rachel's vaccine trials continue to fail.
Who was able to successfully problem solve on The Rachael Ray Show this week? Find out now in our review of Food Network Star.
The Masons are reunited on Falling Skies Season 4 Episode 6. Will it be a happy or contentious reunion?
What took place on The Real Housewives of New Jersey Review this week? Read our rundown to find out!
---