How I Met Your Mother Review: Yes, It's Creepy
by Chris O'Hara at .
Ah, I love the smell of sheet cake in the morning and I loved the way Garrison Cootes told Marshall they were going to war in the closing moments of this week's episode.
It took me awhile to warm to Martin Short's character, but around the time I realized where I had most recently heard his voice, (PBS's Cat In The Hat series), I started to also become a fan of Marshall's new boss. I just wanted to know if he had room for me in that mine shaft of his, stocked with all five seasons of Friday Night Lights on DVD.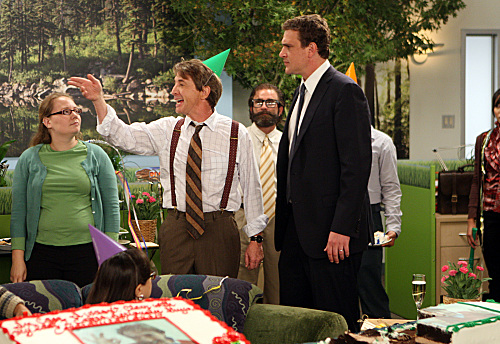 While my heart was full of love for Cootes, I had a bone to pick with Marshall after he told Garrison he could skip season two of the high school football series. In defense of Peter Berg's masterpiece, that was the year of the writers strike and episodes like "Backfire" where Street and Riggins went to Mexico should not be skipped.

Speaking of skipping, I don't think i would have signed a permission slip for anyone to go on Ted's "Field Trip." That is, not until Barney got involved of course. From calling two of Ted's students "Weird Beard" and "Bieber," to knowing Gina, the attractive blonde's name, we were treated to a scene where Barney seemed to actually possess Jedi powers of humor.

As disappointed as I was to not see what his "Sex Lessons" were all about, the Ewok Powerpoint presentation more than made up for it. Having been born in 1978 I can remember being shocked to learn there were people who did not like George Luca's primitive inhabitants of Endor. That being said, I'm sure there also exists a Jar Jar Binks line which separates those born before and after May 19, 1999. I don't care if it gives away my age, I am most definitely a member of the Jar Jar Binks Haters Society. 

Regardless of when you were born, dating your therapist was deemed by everyone Ted and Barney polled to be creepy. Upon meeting Kevin, Barney treated him more like he was "the rapist" as opposed to the "therapist" he had heard about. Is it weird that I sort of agreed with his logic that pretending to be a therapist and sleeping with your patients was less creepy than doing it for real? Regardless, I thought it was great when he and Ted agreed in unison that Robin's new relationship was indeed, here's that word one more time, "creepy."

I did like Kevin though as the episode wore on, especially when Robin put him on the patient couch and had him spewing about his brother the neurosurgeon while angrily raking the desktop zen garden. And, yes Robin, dating your "gyno" is bad too.  

While it wasn't hard to believe Marshall and his boss would one day save the world, I did have a hard time accepting the fact that nobody took a shot at Ted's five o'clock shadow. Aside from it being in a terribly weird transitional stage - if he was in fact trying to grow a beard - I'm pretty sure I also saw some grey hairs in those sideburns.

Well, we all get old someday, right? Lucky for Nora she has one good year left, as Barney put it, and lucky for us we have such a great show to enjoy while we still can remember what television is. In case you forgot any of your favorite lines from this episode, be sure to see if they made it on to my list of best quotes from the episode. 

Tags: How I Met Your Mother, Reviews
From Around the Web