So video killed the radio star and the smart phone killed the bar room debate, but the "dark ages" were not a nostalgic time of ignorant bliss to be mourned like Ted did on this week's episode,"Mystery vs. History." 
He, of all people, should have never doubted the value of foresight as it pertained to his dating record. Robin and Barney hacked into our hearts once again as we flashed back to them snapping into "research mode" each time Ted announced a new woman in his life.
The smart phone is not America's favorite food, but it is the greatest thing since sliced bread, although even a mini-fridge fetish wasn't enough to freeze out Ted from the beautiful Paula (Rachel Sterling).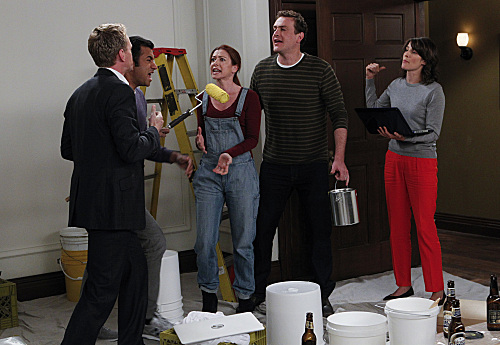 A reluctant Kevin could only hold his tongue for so long before letting Robin and her friends know what he really thought about them. (See Fisher Stevens role as Roger on Friends' "The One With the Boobies.") Kudos to the the writers, though, for using Kevin to poke fun at the character tendencies of the sitcom. Yes, they are predictable but they are endearing, too, a great testament to the creative staff behind each episode. 

But "Sweet Mother of God," did they run that spitting joke into the ground. Some jokes don't deserve a call back. I'll admit I felt like I was missing the reference here. I'm not a bigfan of CSI, any cop drama for that matter, so I felt like something was lost on me. Even still, I felt the spitting relied heavily on the show's laugh track after the first couple times it was used.

Saving graces of the episode were moments such as the physical violence montage, the burlap sack baby outfit, Mia's excitement at seeing hot dogs, Robin's father flashbacks and various Canada references. Were we being set up for another Robin Sparkles episode? I hope so.

Anyone else think Barney could have used the baby's sex as leverage to get out of the Ducky Tie bet? 

Overall one of the weaker episodes, as it often felt disjointed, but Marshall's announcement to Lily that they were having a boy will make it one of the more memorable ones for me. I just love those kids so damn much!

Tags: How I Met Your Mother, Reviews