Welcome to a special edition of the Psych Round Table!
Below, a quartet of Wellesley College students - Chandel Charles, Yvette Walker, Belgin Palaz and Molly Bruns take on "This Episode Sucks," sharing their opinions on the latest escapades of Shawn, Gus, Lassiter and company. Pull up a computerized chair and join in...
-------------------------------------------
Favorite quote from this episode?
Chandel: Hands down, had to be Henry's defense of the nails made famous by J-Woww on Jersey Shore. Did NOT see that coming!
Yvette: "It shows off your clavicle quite well" was by far my favorite, but I also loved that Henry says "but she doesn't have carnal knowledge of any of them" and "they do wear those nails when they go out clubbing."
Belgin: I must say, Gus' rendition of the popular True Blood catchphrase "Sookeh is mine," followed by crazed growls, perfectly captured the vampiric allure of that show with the lighter but equally enjoyable humor of Psych.
Molly: Too many good ones to choose from! I loved Henry's, "J-Woww's, too. A close second would have to be Belgin's selection. I really just loved everything that Gus said/did in this episode. So good.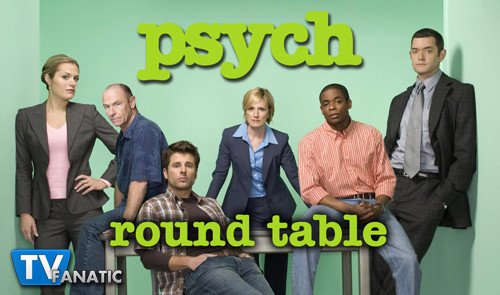 What impact, if any, do you think Carlton's new beau will have on the way he views Shawn and Juliet, as well as life in general?
Chandel: I think he'll start to view Juliet as an asset in the realm of all things romantic, probably going to her for advice. I feel like he mostly got over the whole Shawn and Juliet thing when after he made his feelings known to Shawn, so he may even ask his advice if he felt he really needed another guy's perspective. Overall,  I think Carlton's quirky personality will continue to prevail, however, and Marlowe will just be an exception to his normally very critical view of criminals. In short, don't expect him to change too much!

Yvette: She's already softening him up a bit, but I'm thinking that he'll still love squirrel hunting :)

Belgin: Hopefully, Carlton's budding relationship with Marlowe will positively influence the way he views Shawn and Juliet being together. We've seen an enormous amount of character development in only a single episode. Watching "This Episode Sucks," it was almost hard to remember Lassiter as the guns-blazing, convict hating Chief Detective of SBPD. Yet here we saw the amazingly sweet detective who will wait for Marlowe six to eighteen months. I remain cautiously optimistic that the prospect of a new relationship will allow us to see a softer side of Detective Lassister, which may make him much nice to Shawn and Juliet.

Molly: I can't imagine his character changing that much. Obviously he'll still have his soft spot for Marlowe, but I don't think he'll treat Shawn and Juliet any differently. Shawn will still annoy him and he'll still feel protective over Juliet. He might be a little less cynical, but I'm having a hard time picturing that.

Who wore their costume better: Shawn as Lestat, or Gus as Blackula and why?
Chandel: As much as I appreciated Shawn's efforts, Gus not only wore the costume, he sold it. Every creepy facial gesture and fervent defense of Blackula is what did it for me!

Yvette: Shawn because that wig was the best and, well, "no one remembers Blackula..."

Belgin: Blackula, of course! Gus's crazy eyes, strange hissing and fake mustache were far superior to Shawn as Lestat.

Molly: I've got to go with Gus. I was a big fan of the ridiculous facial hair, and I loved all of the Count Chocula comments. Shawn's wig freaked me out a bit too much.

If Shawn + Juliet = Shules, then Carlton/Lassiter + Marlowe = [fill in the blank with your best shipper name].
Chandel: Definitely Carlowe! My goal is to make this the official shipper name from this point forward!

Yvette: Massiter because it's the muscle that helps you chew!

Belgin: Carlowe, Carlowe, Carlowe!

Molly: I don't know, I kind of like Marlton.

Any predictions for next week's superhero extravaganza?
Chandel: A little birdie told me that an NKOTB alum might be making an appearance in the form of Joey McIntyre... so I can only speculate as to guest stars. I do love how the title makes it sound like a comic book. Something tells me there maybe some superhero vs. villain scuffles that will be over-the-top entertaining!

Yvette: No predictions, but I'd love it if they'd mention some of the more bizarre villains like Harley Quinn, the Scarecrow or Shade.

Belgin: Should be an exciting episode, Can't wait!

Molly: Lots of delicious flavor, but that's a given. I'm hoping for some hilarious fight scenes with Tap Man and The Catch (or The Turtle).

Tags: Psych, Round Tables