We don't wanna say we told you so, Clay, but...
"Fruit for the Crows" introduced an entirely new level of danger to SAMCRO, as the worst fears of Bobby, Gemma and everyone else who had questions about making a drug deal with the cartel came to fruition. In the most disturbing, despicable way imaginable.
Using an innocent family to carry out your own hits?!? Damn, Galindo cartel rivals. That's some Gustavo Fring $hit right there.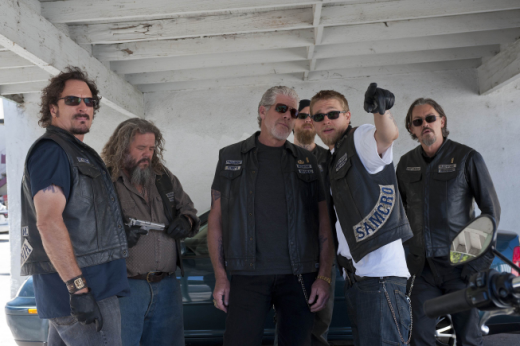 Of course, even with this growing threat lingering around the club, it's the deepening chasm from within that may truly bring SAMCRO down. Where else can we start than with Juice?

Man. This was a fatal resolution that wasn't difficult to see coming, yet still walloped an emotional punch. We can thank Theo Rossi for that, as well as the way the show dragged out Juice's dilemma and truly made viewers believe he was left with no option other than to hang himself - and over Miles' unmarked grave, no less. Will anyone realize the connection once they discover Juice's body? I say no. Chibbs may have questions, but the members will forever believe Juice just couldn't handle the fallout from killing a fellow member.

(Note: Did anyone else hear a branch breaking as the SAMCRO logo was painted over the final scene? Is there a chance the tree snaps and Juice lives? I hope not. That sort of thing can happen, but would still feel like a cop-out.)

And where did the killing of that member originate? From the kilos of Mexican cocaine, which brings the club back to its agreement with Romeo, which might very well place more individuals in Bobby's camp and cost Clay his Presidency. No one can feel safe about the deal at this point, and even Jax can't truly believe this is in the best interests of his family, either the one in the compound or the one at home.

Ironically, and sadly for Tara, Jax is acting a lot more like the head of the former unit than the latter. Over the last few weeks, he's stabbed the head of the Russian mob, he's gleefully delivered a wad of cash to his Old Lady, he's sped after Alvarez's shooters, taking the focused lead even with a terrified Tara back at the clubhouse.

But, hey, don't worry, honey, you're totally safe... now excuse me while I leave you alone with an armed young club member. You man has business he must attend to.

All those life changes Jax wished to undertake while alone with his thoughts for 14 months in prison have seemingly been replaced by the role he was born to play, even if he can't admit it to: SAMCRO President. His time is coming, perhaps as recently as a week from now.

The only person actually looking out for Tara, of course, is Unser. What does he want with Margaret, exactly? I can only guess he'll use her to concoct some sort of job-related threat against Tara, extending the concern of the club for as long as possible and keeping her protected... from Clay, her son's grandfather. His plot almost makes the murderous scheme of the opposing cartel seem tame by comparison, doesn't it? At least they aren't killing a member of their own family.

So, the bodies are piling up, the webs of deception and blackmail (it's hard not to feel bad for Eli now even, isn't it?) are spinning in more directions than ever and poor Opie is single again. Who would have guessed that a porn star would be acting more rational than anyone else right now?

You never got along with Lyla, Tara, but follow in her scantily-clad, panicked footsteps. Make a run for it. Go. Get as far away from Charming as you can. Things are only gonna get worse from here.

Matt Richenthal is the Editor in Chief of TV Fanatic. Follow him on Twitter and on Google+.

Tags: Sons of Anarchy, Reviews