After a strong midseason premiere, this week's Burn Notice only waded ankle deep in plot. I never felt immersed in the story.
I went into "Breaking Point" with no knowledge of Ricky, given that I have been watching the show for just over three years, I was not around for his season two visit.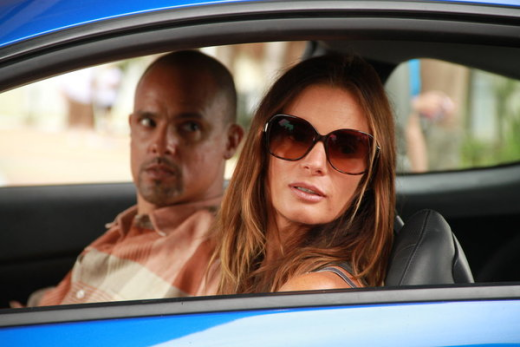 As a first-time introduction to the character, I found him to be a very week client, certainly not one of the best Michael has had. Beyond that, the "Mr. Turner" persona that Michael adopted came across like he was Thurston Howell III from Gilligan's Island. All he need was to end a sentence with "my boy" and he would have nailed it.

The target bad guy was not much better. Dion was a laughable and stereotypical villain, as evidenced when has his crew broke out champagne because a deal went his way. Of course, his overt threatening wasn't scary it was sad and pathetic. He made me miss Xavier from last week, with his suave, cool-and-quiet, threatening and penetrating eyes. 

Meanwhile, in our ongoing story with Anson, we got sometime watching Fiona and Sam as they were following him around, trying to figure out where he lives. Hey Fi, Sam I'll give you a free hint: his home might be where he will go at night to sleep.

Honestly, they followed him to the one residential address and stopped after that? What if he was there for a little "afternoon delight?" Shame on you both! You know better than that.

Of course, Anson seems to have left his brains out as well, given that he allowed Michael to call a meeting with him twice for no solid reason. Isn't Anson the sort of guy to insist on always setting up the meets?

That said, at least the team is starting to work towards taking down Anson. We need some action from these spies, not just some reaction.

Finally, if you watched Burn Notice during season two, I'm curious: did you get more out of Ricky's return than I did?

Jim G. is a TV Fanatic Staff Writer. Follow him on Twitter.

Tags: Burn Notice, Reviews
Want more Burn Notice?
Sign up for our daily newsletter and receive the latest tv news delivered to your inbox for free!
More From TV Fanatic
On Murder in the First, Cindy's husband ends up dead and that forces the police into overdrive. Will his confession hold up?
On tonight's Under the Dome, Rebecca wants to release a deadly virus into the population. Will she do it? And how many would die?
Fritz is offered a new job with the LAPD on this episode of Major Crimes. Read on for more.
OnMistresses, Joss tries to stop Harry from going back to Australia, Karen faces a dilemma involving her lover and a patient, April has a crisis of conscience - and Savi says goodbye to her home.
---