Family Guy Review: Back to the Beginning
by Kate Moon at .
I must confess: I haven't seen any of the old Family Guy episodes, you know, before it got renewed and got popular. To see the classic animation and former Meg (with Lacey Chabert )was just as jarring for me as it was for new Brian and new Stewie.
"Back to the Pilot " was a great meta episode. From poking fun at its own flaws in the original series to acknowledging how silly the cutaway gags can be, Family Guy shone at its layered best tonight.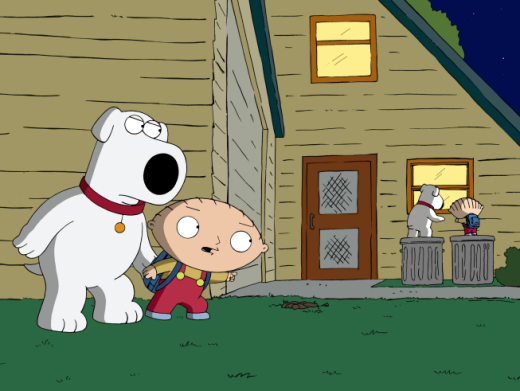 Treating its animated characters like real actors was a nice touch as well. Watching the original family showed how much the individuals have evolved and changed throughout the series' long run.

And what do real actors do during cutaway scenes anyways? Witnessing the Griffins standing like zombies was one of my favorite scenes of the week. 

"Back to the Pilot" also provided some classic time-traveling adventures between Stewie and Brian. Not only did we get to see old diabolical Stewie, who I miss dearly, but also Brian's secret dreams of preventing 9/11 and usurping J.K Rowling as the author of Harry Potter.

While I personally wasn't offended by the 9/11 satires, I wouldn't be surprised if a lot of people were. Was the high-five celebration after successfully reinstating 9/11 inappropriate? Definitely. But even they acknowledged that "it didn't look good out of context."

I found the seceding of the south at Bush's behest hilarious and fitting. Their jokes about the 2004 election and the post-apocalyptic result in the future were awesome. Terminator Joe and Frogmire? So plausible 

Let's hope that if Family Guy runs for five more years, it won't be the strange 3-D future that Stewie and Brian saw. Say what you will about the Griffin family, but they really look better animated. 

What did you think about Family Guy tonight? Did you find the 9/11 jokes to be completely unpalatable or well done? Be sure to check out some of the best Family Guy quotes from the episode now!

Tags: Family Guy, Reviews
From Around the Web