Blair beware: Georgina Sparks is coming back to Gossip Girl.
What better (and bigger) way for the perennial pot-stirrer to return and cause drama than for her to crash than the series' 100th episode extravaganza that is Blair and Louis' royal wedding?
As you can see in the set photo below, it seems that the awesome character played by Michelle Trachtenberg might be going to some pretty desperate lengths to attend the milestone event ...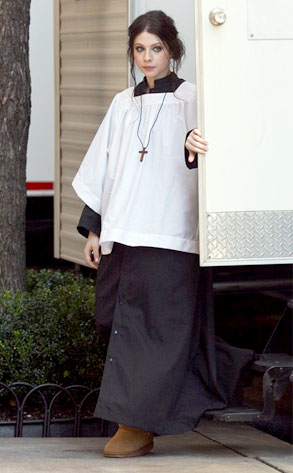 Who can forget the last time Georgina turned to Jesus, only to be brought back to reality by Chuck. Early next year, it looks like she may rediscover her faith ... if only to foster a devious plan.

In the first photo snapped of Trachtenberg's G.G. return (right), she appears to be an altar girl's outfit, so we're guessing she will not be receiving a wedding invitation from Blair. Shocking!

No clue what Geor-gina has been up to lately (if she's married, she's not wearing a wedding ring here), or how baby Milo's doing, but we expect we'll be filled in on her life before long.

"What we love about Georgina is that she can't help but be evil, even when she pretends to be good," Trachtenberg said of Georgina's reappearance, but wouldn't go into many details.

The possibilities are endless, and the opportunities for chaos abundant. What do you think Georgina's up to? Are you excited for her return to the UES? Share your comments below ...

Steve Marsi is the Managing Editor of TV Fanatic. Follow him on Google+ or email him here.

Tags: Spoilers, Gossip Girl