How To Make It In America Review: The 25th Hour
by Chris O'Hara at .
Despite being blinded by dollar signs,in the season two finale of How to Make It in America ("What's in a Name?"), Ben's loyalty to CRISP and Cam were plain to see.
In a last ditch effort to cash in on his relationship with Yosi while still preserving CRISP's independence, Ben tried to push a new brand on his lover's husband. While the idea for Crunch lacked bite, Ben's accidental admission about his affair with Nancy packed quite a punch. He's lucky to be rid of both Nancy and Yosi. After offering up his chin to the latter, Ben still got cheap-shotted by Yosi and Nancy didn't pull any punches when she told Ben what she and others thought about his designs.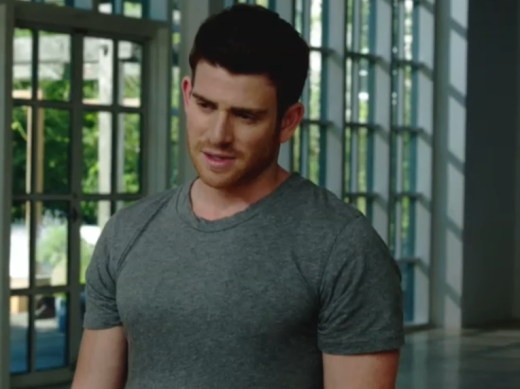 It was not all for naught, though, as it appeared Ben enlisted the help of Yosi's tailor, Enzo, and with Andy back representing the guys I think we can expect big things from CRISP in 2012. 

Just when it looked like Rene could continue pursuing his American dream, having resolved his dispute with Everton, he returned home to Debbie's to find his things packed in a box. Rene's heart is in the right place and I believe he truly loves Debbie, but you can't blame her for her decision. She knows Rene is no saint, but all she asked was that he be honest with her and he repeatedly failed to do so. 

After seeing how smitten he was while telling Everton about the love in his life, Rene certainly garnered some sympathy, but he made his bed and apparently will be sharing it with the head of the East Flatbush Caribbean League going forward. No need to get jealous, Malik, it's just a figure of speech.

I was pretty impressed by Kappo's boxing and had even more respect for his 25th Hour reference. He seemed to be channeling Monty Brogan, who said, "Champagne for my real friends and real pain for my sham friends." Prison is a bad place to be no matter how you cut it, but if Kappo finds himself in a new "relationship" inside, hopefully he can close his eyes and think about that last night at Avenue with the real estate agent. 

It was great to see Edie again, if only for a moment. While the prospects of having Martha Plimpton back on the show in season three had me excited, Rachel accepting Tim's job offer was one of the best moments of the finale because it meant we are in store for more James Ransone. Shits definitely going to get weird. 

Aside from Debbie leaving Rene and Kappo's impending incarceration, it was a pretty feel good finale to season two. While Ben and Cam still have a lot of work to do before they, "Make it in America," they appear to be headed in the right direction with the right people at their side finally.  

I hope you enjoyed the season as much as I did. Lets us know if you were a buyer or seller and be sure to comment on your favorite quotes from the final episode. Don't drop the soap, Kappo! 

Tags: How To Make It In America, Reviews
From Around the Web