Our holiday season was made a little brighter this week with the return of Nate Ford and his Leverage team in "The Experimental Job," the first of three episodes over the next few weeks.
When we last saw the squad back in August, ir had just helped Jim Sterling recover his daughter. While there was no mention of Sterling or how much time has passed, it didn't take the team long to get into the thick of it again.
I'm on the fence about Mr. Conrad of the CIA. My instincts say he will not be a fan of Ford's but, at the same time, I could see him using Nate and his unit to get things done outside normal channels.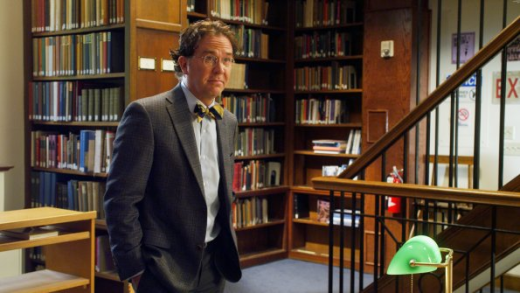 The question then becomes what would it take for Nate to do a job for Conrad. That's where it could get interesting. We'll soon find out.

One thing I didn't get in this episode was the police detective. By the end, she was clearly in on the con, but at what point did they recruit her? Sophie went from European author to police office at the same time, as proven when she did most of the talking when they had Travis in the room alone. 

On the flipside, Hardison are Parker were as cute as ever! It really showed with her attempts to show he was cool by bringing up when he took down a dragon in a video game. 

She must love him, because only someone who really loved a gamer would pay enough attention to her boyfriend to know what he was doing overall (even if she was thin on the details). Then again, she also stepped up and did his homework. 

Of course, she also saved his ass (again) when the frat boys were starting to beat the crap out of him... though we did get to see some of Eliot's training come out as he was holding his on for a short time. 

Overall, it was a decent story. I would have enjoyed a few more "how they pulled it off" scenes to explain a few more pieces of the puzzle, but at least we have Mr. Conrad. Will he be friend or foe?

And, more important, what would you recommend Hardison get Parker for Christmas? 

NEXT WEEK... Leverage makes like The Office. See what we mean in this promo.

Jim G. is a TV Fanatic Staff Writer. Follow him on Twitter.

Tags: Leverage, Reviews