Modern Family Review: Dreamers vs. Realists
by Leigh Raines at .
What's a holiday without some family drama? The Dunphy-Pritchett crew was all to willing to demonstrate this fact in "Punkin Chunkin."
I never want to hate on an episode of Modern Family, especially a holiday-themed one, but this week was just depressing. Not even Phil's humor could push my rating up to a 4.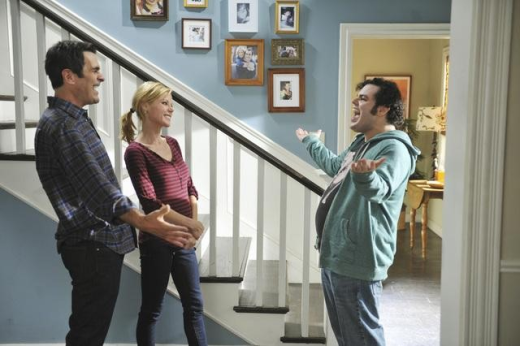 The Pritchetts are so negative sometimes, it's painful. I totally agree with Jay's assessment that you don't have to praise every little thing a kid does, but this isn't about child psychology. This is just about supporting people that you love.

Cam's farm stories are excessive but that's Cam. Mitchell knew that when they got together. Phil's a dreamer and Claire is overly critical. It really wouldn't hurt them to be more supportive of their partners.

Josh Gad was totally underused, too. Maybe we should all think like him, and I don't just mean "What would Phil Dunphy do?" Maybe if we were more optimistic and took some risks, we could all be Internet millionaires. Okay, so that's a stretch, but sometimes a little positivity goes a long way.

My favorite parts involved Haley and Alex. I like how despite all of their differences in the past, they're now able to come together as sisters. Granted, it's coming together against Claire, but they're still amusing.

If there's one thing we learned it's that dreamers and realists do balance each other out. Or as Cam said: "There are dreamers and there are realists in this world, you think the dreamers would find the dreamers and the realists would find the realists, but more often than not the opposite is true. See the dreamers need the realists to keep the dreamers from soaring too close to the sun. And the realists? Well without the dreamers, they might not ever get off the ground."

Check out more lines in the quotes section and have a Happy Thanksgiving!

Leigh Raines is a TV Fanatic Staff Writer. Follow her on Twitter.

Tags: Modern Family, Reviews
From Around the Web