Rizzoli and Isles this week returned to heat up our holiday season with murder, possible dirty cops... and Bill O'Reilly. Yup, you read that right. The political pundit made a guest appearance in "Can I Get a Witness?" playing himself - and he didn't do a bad job of it.
With Boston Homicide this-close to finally taking Little T, a gang member suspected in 15 killings, the world was watching, which is what led to O'Reilly covering the story. 
To be honest, I'm generally not a fan of these guest spots. They usually take away from the story instead of adding to it, but I'll give Mr. O'Reilly and the writers their due. His role fit into the storyline and gave Angela her moment to moon over his Irish blue eyes. Even funnier was Maura hinting that they weren't real. In the end, I almost wanted to see Jane on The Factor.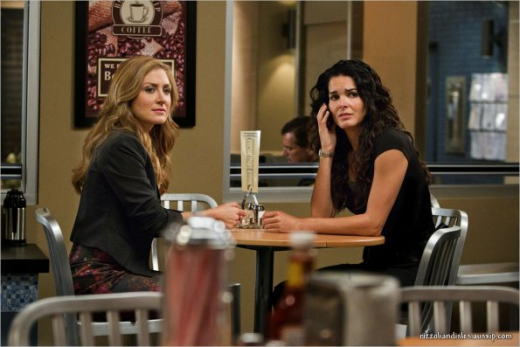 But back to the rest of our story... Korsak came under fire when their witness turned up dead while under protective custody. Who decided that the second story was secure enough? Obviously they were wrong because one call from a burner phone sent our witness jumping out the window. It appeared as if a high rise hotel would have been safer or at least have kept Dante indoors.

And did the witness really need his cell phone the night before he was set to testify? Seems to me he would have been much safer without it. 

Korsak was willing to lose his badge to protective that young woman and her baby and I expected nothing less from the detective. He might not be able to pick out a tie, but he knows the difference between proper procedure and doing the right thing.

One thing I found hard to believe was that Dante could have kept his girlfriend and baby a secret. That kind of news is hard to hide.

In the end, who knew that changing a tire could be so important?!? I've always found a can of fix-a-flat to be much easier, but then perhaps we wouldn't have caught our killer. I wasn't expecting ADA Delgado to be the murderer. To know how scared that kid was and still take him out and kill him was damn cold. 

In this post Thanksgiving season, I'm thankful that Rizzoli & Isles is back to give us four more episodes to get us through the holiday season. How about you?

C. Orlando is a TV Fanatic Staff Writer. Follow her on Twitter.

Tags: Rizzoli & Isles, Reviews