The X Factor Top 10 Results: A Disgraceful Non-Exit
by Dan Forcella at .
If that wasn't the worst display of sportsmanship in singing competition history, I don't know what was.  
The X Factor went from 10 finalists to nine tonight, but not before Astro embarrassed himself and made a mockery of the show by claiming he didn't want to perform for the judges' vote and pouted through his entire performance.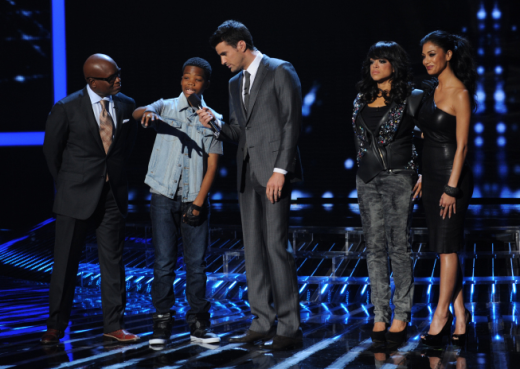 After Rihanna danced around on stage in a pair of ripped jeans straight out of 1991, the top eight vote-getters were announced in no particular order as: Leroy Bell, Lakoda Rayne, Chris Rene, Melanie Amaro, Josh Krajcik, Marcus Canty, Drew, and Rachel Crow.

That's right. That means that Stacy Francis and Astro received the least amount of votes from America. Now I could have been happy that most of America agreed with my take on the young rapper's performance last night, but instead I was quickly saddened how poor of a sport he became.

Astro first claimed that he didn't want to perform for the judges, and asked L.A. if he wanted him to. Of course L.A. said yes... but really? You just wanted to quit then and there, Astro?  ou were voted in the bottom two so you don't think America deserves to hear you again? Following that up with the most lackluster performance of all-time was such a show of disrespect that I wasn't going to be surprised if the judges decided to send him home for that reason alone.

Let's see what the judges decided to do...

L.A. chastised Astro but then voted for Stacy to go home.

Nicole decided to save her girl and send home Astro.

Paula picked to send home Stacy.

Simon mouthed that he was tempted to send home Astro - and was even harder on him than L.A. - but realizing that Astro still has a chance to move forward in this competition, he chose to send home Stacy.

So Stacy Francis is no longer on The X Factor, and Astro has to stay and sing for America for at least one more week. Will he be able to bounce back from this? I'm interested to find out. The most surprising thing of this whole episode was that Lakoda Rayne not being in the bottom two was not even news.

What did you all think?

Dan Forcella is a TV Fanatic Staff Writer. Follow him on Twitter.

Tags: The X Factor
From Around the Web