For the second week in a row, Burn Notice earned a perfect rating, this time for "Acceptable Loss," which featured the first case Michael has had where the only way to stop to the bad guy was with the very real death of the client.
We've enjoyed many cases where faking the death of the client, Michael, or both has been used to trick the bad guy and stop them. I believed here, to the very end, that they were going to figure out a way to have Ian survive the mission (even with terminal cancer.)
When they didn't, it was so much more powerful and poetic. Kudos, Matt Nix to you and your team; you again raised the bar on what a show like this can do. When you have time, could you give Hawaii Five-0 a call; they could really use your wisdom.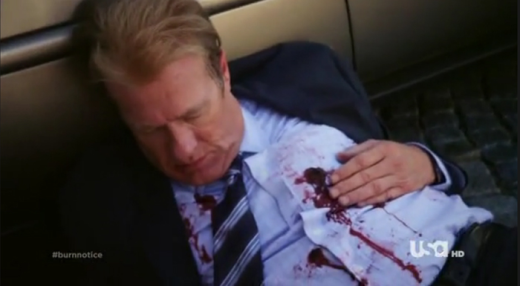 It was great seeing Gregg Henry (Ian) as the good guy. He gets cast in the bad guy or jerk role so often that you might forget he can play the hero. He also had my favorite quote of the night with the following: Spent most my life as a coward, but I'm gonna die a man. While the line itself is pretty powerful, the emotional reaction it pulled out of Michael was amazing.
Watching Michael's different expressions as he came to the realization (and respect for) Ian as he was facing his demons head on and was going to atone for the bad decision - or lack of action in his life, no matter the cost - reminded me why I love Jeffery Donovan. So much said without ever speaking a word.  
While that alone was enough to make the episode worthy of a high rating, when Michael called Pearce by her first name softly and then let her in on what was going on - explaining that he was shielding her because of Max's death after he had told him - her reaction with trust and faith in him (see below) pushed it over the top.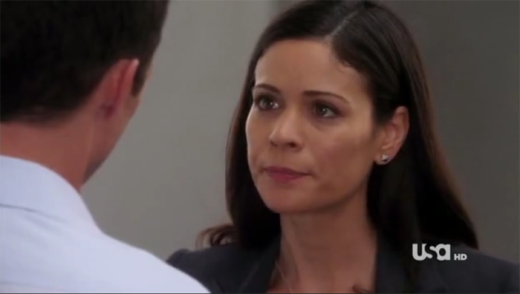 Was anyone else as shocked as I was that Michael cautioned Madeline that Anson might have said he killed his father just to get into his head? Michael is handling that totally different than I might have. I guess it's a good thing I'm not a spy. 

I'm not sure if Michael realizes he's in a war, but he certainly is building an army of friends around him anyway. At the same time, Michael was willing to play dirty with Vaughn and ended up blackmailing him into tell what he knew. It was great seeing Mike outsmart him. Sorry, Vaughn, I don't feel sorry for you at all. 

While last week's shocker was that Anson killed Frank Westen back in 1998, this week we had the bomb dropped that Anson's not actually retiring, he's bringing things back online to start up The Organization again.

Can next week's season finale make it a trifecta of perfect ratings? Less than 165 hours until we find out. Are you excited? Me too!

Jim G. is a TV Fanatic Staff Writer. Follow him on Twitter.

Tags: Burn Notice, Reviews