Mr. and Mrs. Awesome, as I affectionately refer to Devon and Ellie Woodcomb, were responsible for a majority of what worked so well for "Chuck Versus the Curse."
The episode was good on the whole, but if you were to take out everything dealing with the Awesomes, most of the hour would have felt either lacking or repetitive.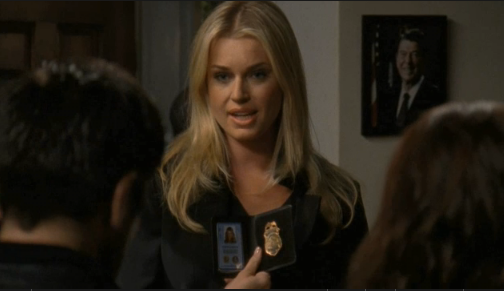 Nothing Chuck, Sarah, Casey or Morgan did ever materialized into something interesting or even all that entertaining. Each one had its moments, of course, like Beckman drinking straight from the bottle, or Casey and Sarah killing every bad guy in the place once they got the power off for good, but none of it ever came together for a moment that was worth pulling the camera off of Ryan McPartlin and Sarah Lancaster.
As for the new antagonist, I just have to shake my head. I thought it was awesome that Chuck was willing to kill off what I figured to be the big bad of the final season in episode five. If I had known Decker was just going to be replaced in the next episode by a female version of himself doing the exact same job, I would have thought it better to just keep Decker around.
What's the point of such a big power move in the story if it doesn't change anything for our main characters?
Although it had its shortcomings, "Chuck vs. the Curse" was still a very enjoyable hour of television, so let's take a look at what Chuck does best. Once again, it's the Chuck Triple Threat...
Comedy

"You live with your girlfriend's father?"
Chuck claiming that "the toy" shouldn't be involved with children in any way, shape, or form.
The fact that Chuck cries during sports movies.
P.A.N.T.S. - of course Chuck and Morgan went through an acronym phase.
Awesome's flapping motion, and every single thing Mr. and Mrs. Awesome did when they thought the real spy mission was a fake one.
Action
A lot of action from the Awesomes, including a brilliant tuck and roll, Ellie knocking out the guard, Awesome punching the big dude in the face and then both of them failing miserably in the end. Which was worse, Awesome's power outage immediately leading to a generator turning the lights back on? Or Ellie sneaking up behind a bad guy only to hit her weapon on the ceiling and getting caught?

Then again, Casey and Sarah had the best action of the night as they took out the entire building Jack Bauer style.

Heart
There weren't a lot of heartfelt moments here, as most of the stuff dealing with Chuck and his curse missed, but there was that scene with Morgan and Alex. When he gave her his P.A.N.T.S. box, I loved it, but then when she opened it to see a picture of the two of them, it got a bit dusty. I just want to see those two crazy kids make it. Don't you?

Moving Forward
Like Robin Cunnings said, Chuck HAS pissed off a lot of people, and I'm glad the writers are bringing that to the forefront for the final season. Everything this team has done over the course of the first for seasons has had consequences, and they're starting to see those in human form.

With how seemingly famous he and the intersect became over the years, it makes it seem almost impossible that the series ends without him getting out of the game. It's one thing to get him out of this alive, it's a whole other thing if he survives and continues to be a spy when you know the bad guys are going to continue to come after him time and time again.

He's going to need to get out, but he's going to need to make sure all of his family is safe as well. It's a tricky situation, but I'm sure he will figure out how to pull it off.

I can't wait to see how it happens.

For now, we just have to worry about what the Omen did to every single system operating on the planet, and what it's going to do next.

What about all you, TV Fanatics? What did you think of "Chuck vs. the Curse?" How awesome were the Awesomes? And what do you think is going to happen with the Omen?

Dan Forcella is a TV Fanatic Staff Writer. Follow him on Twitter.

Tags: Chuck, Reviews