Grab your favorite bottle of Chardonnay, because it's time for our Chuck round table to gather round to discuss "Chuck Versus the Hack Off."
With our favorite spy dramedy on hiatus, there was plenty for us to discuss with its return this past weekend.  Like our favorite Indian Buy More employees.  Anyways, let's do this!
Favorite Chuck quote or scene from the episode?
Dan F: "Imagine David Beckham! Lester's a shorter, feminine version of his wife."
Dr. T: "Look at my face, you can't tell I'm from Montreal? Like all true Hinjews?"
Kris. H: I loved the reveal with Danny Pudi AND Yvette Brown. Everyone knew Danny Pudi was coming, and boy did he land all his lines. But Yvette too? That must have been a fun day on set. You know, before the tears started falling during the finale tapings *sob*
Eric H: Like Kris, I have to give it to two of my favorite Community stars swinging by.  No only was Pudi unreal, even Yvette Nicole Brown just appearing for one line had me giggle.  Why, NBC?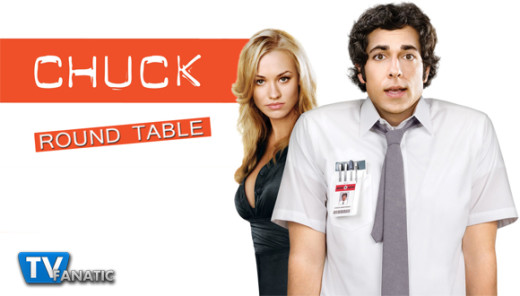 Chardonnay and hacking. A natural pairing.  What's your version of The Routine?

Dr. T: For programming give me a dark room, a hooded sweatshirt and some mountain dew and I can program like a true hacker with a few C++ classes under his belt.

Dan F: My version of The Routine is marathon-ing a new tv series with a 12 pack of ice cold Coke Classic in the fridge. That's how I took down the first four seasons of 24 and Dexter.  Don't mess with me when I'm watching eps on eps.

Eric H: Doctor, I'm not sure when you found time for Computer Science classes during your intense pre-med curriculum, but I am impressed.  Now my Routine?  Definitely begins with some coffee, a couple hour break surfing the web, being endlessly distracted, before an intense ten minute coding sesh.  Bam, favorite shows in the toolbar.  As Chuck can you tell you, that's all you need sometimes.

Kris. H: My routine in writing is the same. I eat some Seaweed and Salt chips (I'm Asian!), then wash it down with a glass of Lambrusco, or Malbec, or whatever else wine is on hand. Then I watch the shows I need to watch, and afterwards, get cracking on my laptop. My keys might need cleaning

Obviously Chuck is the tech guy.  Pick jobs for Casey, Morgan and Sarah at a new tech-focused Carmichael Industries?

Dan F: I haven't yet picked out positions for Morgan and Sarah, but Casey's spot is cemented.  John Casey, customer service.  Can you imagine calling up Carmichael Industries and just getting Casey's grunts on the other end of the phone call?  Can't beat that!  

Dr. T: I have to agree with Dan that Casey is customer service.  Morgan is reception who greets/screens new customers, and Sarah is in charge of receivables and collecting the money.

Kris. H: No. Can't. A tech-focused CI wouldn't have anything for Sarah's skills. I liked the episode most of all for establishing that Sarah loves what she does, she's really good at it, and for the last shot of the camera as she stares off with a satisfied smile on her face at CI still existing as a spy company. She gets to postpone, rightly or not, the inevitable end of spy life for now.

Eric H: As much as I love Casey and his grunts, I gotta think customer retention here.  Carmichael Industries, despite its arcade collection, is no game.  I'm putting Morgan, with all his experience on the Buy More floor in customer service.  Casey, meanwhile, will head up the obvious security.  Now, everyone, since everyone knows sex sells, we have our perfect saleswoman: Sarah.  And sorry if we're not taking advantage of her nine million other skills, Kris.  We gotta look out for the future Bartowski family here.

Who would you hire as your Indian Buy More employee: Vali (Danny Pudi) or Lester?

Dan F: As horrible as Lester is as a person, I'm sure he know a lot more about Nerd Herding than Vali.  That dude was just an Indian model with a fabulous singing voice.  Give me Lester's antics any day of the week.

Dr. T: Lester.  There is no doubt, Vali just wanted an iPad but Lester was locked in prison and still doing Nerd Herd installs.  You can't question his commitment.

Kris H: Vali! He's an Indian model for godssake. Eye candy for the customers, right?

Eric H: As much as Lester impressed me with his 12 gauge installations in jail, I'm still going with Vali.  In addition to Kris' actual sound reasoning, I'm going with his his beautiful voice that would go perfectly with a keytar.  So long Jeffster!, hello Jeffali!  (Name is a work in progress)

Decker blown to pieces?!  Rate that on a scale of 1 to never saw that coming.

Kris H: After Casey capping those baddies a few episodes ago, this one didn't even phase me. So, a 4 out of 10, with Casey's homicidal act being an 11.

Dan F: I will go 9 only because Casey's murder of five people in three seconds in the last episode made me less shocked about crazy events on Chuck.  It was still awesome, though, to see the big bad go down at this point in the season.  

Dr. T: I'll say 7.  I didn't see it coming but I didn't totally care because I still don't completely understand why he was after Chuck or what was going on.

Eric H: 10.  Not because I was shocked by the actual death.  Like everyone else, Casey's quick shot squelched any chance of that.  But, because like Dr. T, I can't believe they killed off the main villain before we ever learned why he was even after Chuck.  The guy seemed to be the season's overall arc, and bam, dead, five episodes in.

Eric Hochberger is the programmer of TV Fanatic, so please forgive his mediocre writing. His programming is far better. Follow him on Twitter and/or email him. Just don't request threaded comments. They're coming.

Tags: Chuck, Round Tables