Leverage Review: Boys Will Be Boys
by Jim Garner at .
Last week on Leverage, we got a chance to see how the girls would handle a case without the guys around. This week we got the flip side of that with "The Boys Night Out Job."
Was there ever any question if the guys could handle a job by themselves? What I didn't see coming was Hurley making a surprise visit, given that we haven't seen him since the end of Season One. Okay, I wasn't expecting a nun with a gun either, so it was an episode of surprises for me all around.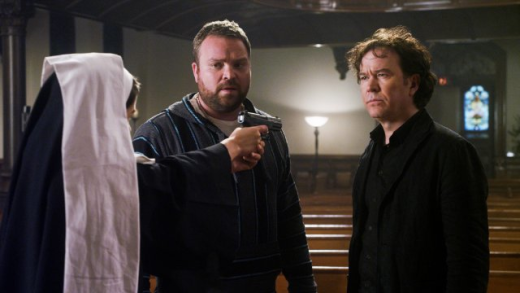 It's rare that we get to see much of Nate and gang's hometown of Boston. I liked the nod to the strong Irish community with the two hit men not wanting to go into the church to kill someone. The discussion that followed about the layers of a church and which might not be holy ground had me rolling. 

We all new Sister Lupe (Sofia Pernas) wasn't really a nun. Honestly, if more nuns looked like her and went swimming in two-piece bikinis (as shown by Hurley), there would be a line at the confessional. What I couldn't figure out is how she ended up on Eliot's knee doing shots. When did she meet Eliot? 

I understand that the story called for Hurley to be left solo so he could bump into the cat loving Peggy for a love connection, it just seemed odd for her to be so cozy so fast.

Longtime fans of the show might also get a giggle remembering that Hurley was introduced in season 1 in "The 12-Step Job," which aired the week before "The Juror #6 Job" where we met Peggy.

I guess Hurley and Peggy were just meant to be, right? 

Speaking of Hurley, he had one of the best quotes from the episode when he told Nate he wanted to prove he was worth the second chance that Nate had given him. Like Hardison, I think Nate forgets all the good he has done and the number of people the team has helped. 

The part that pushed this episode past the girls had to be Shelly and Bonanno. From their opening dialogue, to Shelly teaching him how to choke-out someone, ending with Shelly helping bust the two hitmen (while eating pizza). It just added that little something extra that made the entire hour that much more fun.

I know we will see Bonanno again, I just hope we get to see more of Shelly. He knew Star Wars like Hardison and fought like Eliot - I might have a little man crush going. 

Over all, this week's offering was very enjoyable. Maybe next season we will see more returning clients. It would be awesome to see how some of the other clients have done. I'm dying to know how the music career is going for Kaye Lynn from "The Studio Job" from Season 3.

Is there someone from a specific job you would like to know how they are doing now? What did you think of last night's Leverage overall? Discuss below!

Jim G. is a TV Fanatic Staff Writer. Follow him on Twitter.

Tags: Leverage, Reviews
From Around the Web