Shawn and Gus found themselves in the middle of a cult on Psych this week, with Gus  head-over-heels in love with another questionably insane woman.
I'm going to enter the barn of truth - because clearly I have the gourd of transparency - and say the show delivered a karma-cleansing hit this week with its latest installment, "The Tao of Gus."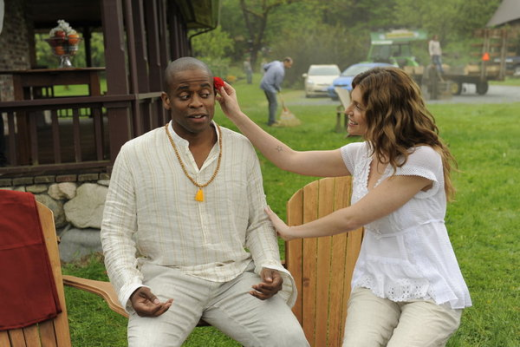 Hats off to Tim Meltreger, who is perhaps the only writer on staff who could get away with such an eccentric installment that was so clearly wrought with his offbeat and always entertaining humor. Psych has really allowed its writers to shine particularly bright this season.
Only thing that disappointed me a little bit was that Tim did not make an appearance in the commune. Part of me expected this for whatever reason; again, probably his particular sense of humor.
As far as the episode... boy, oh, boy... what ON EARTH are we going to do with you Gus?!
Yes, Nicole was very pretty, but, man, if you keep this up, I just don't know what Shawn's going to do. You are his role model in every other possible aspect of life. Alas, student has exceeded teacher. I think I liked it better when he was dating Kim with two "m's" or... was it one?
It was pretty entertaining to watch him completely embrace the cult lifestyle, even down to referring to his lifelong best friend as "Brother Shawn." He really had the blinders on the entire episode, but I love how he immediately found clarity once it was proved that Eli was a fraud. So typical and so Shawn and Gus!
I about died when Nicole divulged that she had a Facebook page. I thought: "Well, that figures!"
Diedrich Bader made for quite the quirky cult leader. I know I loved him. Too bad his character is going to guest star jail. Eli was a perfect placement for him.
Other moments that made this episode epic:
The slow-motion shootout in Juliet's apartment, she was such a boss.
Juliet's apartment on its own was an epic addition to the episode. Can I have it?
Carlton's insistence on using offensive language when referring to the commune members. Among my favorites: "hippies" and "freedom haters." Clearly Carlton leans a little right of center, if you know what I mean.
Dot's naughty dream about Shawn, and his "bloomers" defense.
Carlton's impression of Nicole, insinuating her as a pot smoker. His facial contortions were unexpected and entertaining.
I'm feeling rather transcendental, and fully welcome the rest of the week, now having consumed my Psych fix.

C. Charles is a TV Fanatic Staff Writer. Follow her on Twitter.

Tags: Psych, Reviews
Want more Psych?
Sign up for our daily newsletter and receive the latest tv news delivered to your inbox for free!
More From TV Fanatic
On tonight's Gang Related, Ryan was forced to make a difficult decision. Which side did he chose?
On the latest episode of Satisfaction, Neil learns an important lesson about being honest with himself from Adriana while Grace struggles on her new job. Read on for analysis.
On Rookie Blue, Oliver turns down extending his contract as Acting Staff Sergeant until Duncan's dismissal hearing turns unpredictable. Read on for more.
On tonight's The Bridge, Marco is made an offer that he initially refuses. Will he agree to go after Fausto?
---