Up All Night Review: Here Comes "Shanny" Claus
by Chris O'Hara at .
Reagan may have gone a little Clark Griswold when it came to her decorations on this week's episode of Up All Night, "First Christmas," but her heart was in the right place.
During a time of year where people tend to get caught up in material gifts, Reagan's sole motivation behind turning her family's home into a winter wonderland was to give her daughter a taste of the holiday spirit that she never seemed to get as a child.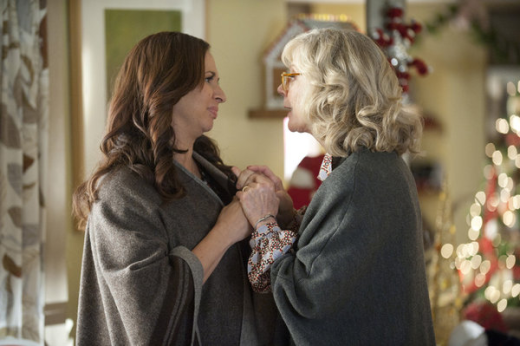 Blythe Danner returned as Reagan's mom and, after having a Scrooge-esque awakening - and a little liquid courage - helped to make up for the past by "borrowing" a local church's Santa and sleigh. She also delivered some very sincere praise to her son-in-law, noting that Chris's decision to quit his job and stay home to raise Amy, in her eyes, made him a real man.

Chris certainly is a guy's guy, which is why his decision to sell his hockey memorabilia to pay for Reagan's bracelet really showed how much he cares for her. It also, though, demonstrated just how big a sacrifice he was willing to make in order to satisfy his masculine need to "whip it out" when it comes to gift giving.

Ava may have been assaulted by her snow suit, but the warmth she felt from Kevin's special three words was enough to melt that port wine cheese ball in her belly for sure. Her stocking was full when it came to memorable quotes as well.

Elsewhere: Great news for the show in 2012 as it moves to Thursdays behind The Office. Happy Holidays, fans. Brush up on your Up All Night quotes now!

Tags: Reviews, Up All Night
From Around the Web